Arts
MFA Alums Serve Up Delicious Spectacle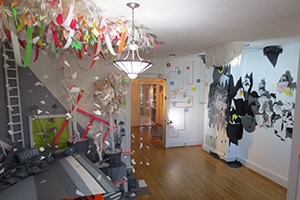 People say they live and breathe art, but three AU master of fine arts alumni and one current student really do—they opened an art exhibit in the living room of their Columbia Heights row house.
Delicious Spectacle is an experimental gallery space where artists can show their work and meet other artists, according to Sam Scharf, MFA '12 and one of the founding members of the exhibit.  
Scharf said his fellow housemates—who include Victoria Greising MFA '11, Camden Place MFA '12, Dan Perkins MFA '13, and Megan Meuller (a 2008 Virginia Commonwealth University BFA grad)—decided to host a different art show at Delicious Spectacle each month.  
"I thought it might be a nice way to show work that might not be getting shown," he said. "It's nice to have a space where artists can feel free to kind of explore, and maybe try something they can't do in a traditional white-wall space." 
Since its opening, Delicious Spectacle has hosted more than 20 different artists, some of them AU students or alumni. The founders do not show their own art on principle.  
"You know there's going to be good work up," Scharf said. "It's new, contemporary, and innovative. We try to focus on that to come through."  
The Washington Post has featured the exhibit space twice, bringing a flood of people into the house for exhibit opening parties. Between 100 and 150 people came to the opening of the first exhibit, but the past couple shows were jammed with 200 to 250 people. There was literally no room to move in the two exhibit rooms.  
"I'm happy that people are there," Scharf said. "Yeah, some of them are there to get free drinks, but at least they're surrounded by art."  
Scharf said house art exhibits are relatively new to the D.C. area.  
"It is a house, and we can still show really good work," he said. 
The housemates all have their own assignments when it comes to Delicious Spectacle. They divvy up who will curate the different exhibits, as well as who will promote the shows, construct and deconstruct the exhibit space, and buy drinks for the opening and closing parties.  
"There's a lot of effort and energy being put into it, and we're not getting paid for it," Scharf said. "The best thing is that it's possible." So what is the spectacle, and why is it delicious? 
"A spectacle is a concept that has to do with the larger system that we live in," he said. The group originally wanted to do an art critique blog and was talking about spectacles in art late one night.  
"We were talking about how delicious it is, how we just wanted to soak this up," he said. "It is very tasty in a way."  
Delicious Spectacle's next opening is May 24, when the work of artist Matt Rich will be presented.