First Person
National Gallery Intern Ponders His Experience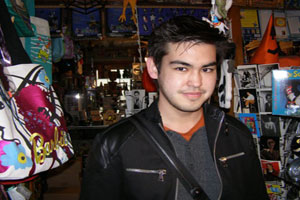 Tate Strickland, CAS/BA '10, majored in graphic design and minored in art history.
Nearing my final semester at American University, I sought an experience that would serve as a capstone for my undergraduate career and which would broaden my opportunities for future studies or employment. My dual interests in graphic design and art history motivated my application to the National Gallery of Art's publications internship, where I was fortunate to be selected for one of 16 intern positions gallery-wide.
The amount of thought and manpower that supports the National Gallery's collection is staggering. From my position in the publications department ("pubbies," we collectively called ourselves), I only glimpsed the complex machinery behind the scenes in my interactions with the digital imaging office, curators, press office, and even food services at lunch.
But it was the structured internship program that afforded the interns a thorough perspective on the National Gallery of Art that even permanent employees were not afforded. We explored the Gallery from top to bottom (literally, on the exhaustive facilities tour that covered rooftop to basement) and were given the distinct privilege of speaking with renowned art history and conservation experts about their careers and interests. Meanwhile, I spent much of my time translating children's audio tours into mobile-ready multimedia presentations, a project that was as rewarding as it was entertaining.
Nine weeks flew by in a flurry of seminars and projects. When the time came to turn in my badge, I left with a distinctly different understanding of the National Gallery than I had entered with.
Though I will always appreciate the breathtaking architecture and exquisite collection in the museum, the National Gallery was and will always be defined by its many employees and contributors who are dedicated to the belief that art is an invaluable part of our society. The National Gallery of Art is as much a community as it is a museum, and I am honored to be a part of it, even if it was just a short while.