Arts
Winter 2014 Exhibits at the AU Museum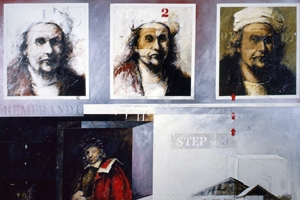 Three new exhibits—ranging from a second look at four decades of Washington, D.C. art to the works of a Cuban artist known for his "climactically bizarre treatment of the female body"—and a captivating performance will kick off 2014 at the American University Museum at the Katzen Arts Center.
The exhibitions open on Saturday, January 25 and run through March and April. In addition to the exhibits, the museum will feature a concert-length, multimedia presentation that converges rhythmic percussion, video, and visuals into a trance-like performance called HABITAT at 8 p.m. on Friday, February 21.
A Second Celebration of Washington Art
Washington Art Matters II: 1940s-1980s, open Saturday, January 25 through Sunday, March 16, is a second opportunity to revisit Washington D.C.'s most celebrated artists of the 20th century. The works in the exhibition—inspired by the book, Washington Art Matters, written by Jean Lawlor Cohen, Sidney Lawrence, Elizabeth Tebow and Benjamin L. Forgey—represent the best of Washington art over five decades. Visitors may join the exhibit curators Andrea Pollan, Jack Rasmussen and Forgey for a gallery talk at 4 p.m., Saturday, February 1, to learn more about the featured art.
Sidney Lawrence, whose work is featured in the exhibit, is known for his Washington, D.C. cityscapes, mixed-media art and paintings, as well as his art reviews and essays. His work has been exhibited and reviewed in the Capital region and elsewhere since the 1980s. A native of San Francisco, Lawrence moved to Washington in 1975 for a public relations job at the Hirshhorn Museum where he worked for most of his career while developing his craft.
William Dunlap, who operates studios in McLean, Virginia, and Florida, and is a visual arts commentator for WETA-TV's Around Town program, will also be featured.
"Washington Art Matters II:1940s -1980s is the second in our series of exhibitions telling the story of the history of art in the Washington metropolitan area," said Rasmussen, director and curator of the American University Museum. "One hundred artists demonstrate there is much more to Washington art than you might remember or imagine. The exhibit is still based on the book, but features different artists than those featured in the first exhibition."
Cuban Artist Remembered for Provocative, Obscure Artwork
Agustín Fernández: Ultimate Surrealist, showing Saturday, January 25 through Sunday, March 16, features a selection of more than 50 major works, including paintings and drawings, that bridge ambiguity and erotic overtones by Cuban artist Agustín Fernández.
Fernández is known for his bizarre, surreal oil paintings of the female form.
Donald Kuspit, curator of the exhibit, writes that Fernández is considered by historians as "the most internationally important Cuban artist to emerge in the postwar period." Kuspit contends that Fernández is the "ultimate surrealist," because of his "climactically bizarre treatment of the female body" and "obsessive theme of a great many surrealist works."
While some critics may find this work to be perverse or disturbing, Fernández himself, while still alive, said, "my work is not erotic."
"My esthetic preoccupation has been with volume and with the oscillation between exact and in the inexact," Fernández said in the book, Outside Cuba: Contemporary Visual Artists (Transaction Publishers, 1989) by Ileana Fuentes, Graciella Cruz Taura and Ricardo Pau-Llosa.
Before 1960, Fernández described his work as more Cuban and romantic. After living in exile in Paris and the United States, his paintings became more metaphysical, he said.
The exhibit is organized by the Agustín Fernández Foundation and made possible by Joseph Hage Aaronson LLC, G-Global, Darlene and Jorge Perez, Gilbert and Judy Shelton, Dr. Emilio Suarez, the Blanche and Irving Laurie Foundation, Zor and Irina Gorelov, John and Lauren Oramas, Hilda Capo, Blas Reyes, the Yoshida Family and Damian J. Fernandez.
Broadening Horizons
The third exhibit, Sightlines, running Saturday, January 25 through Sunday, April 6, is a group exhibition of works by Ann Pibal, Jill Downen, Frank Trankina and Dean Smith. Curated by Tim Doud, a professor in AU's Department of Art, the show features the works of artists Doud has met during various stages of his career.
"These works range from the play of control in Ann Pibal's subtle abstract paintings, the time intensive exploration of drawing in Dean Smith's works on papers, the constructed narratives of Frank Trankina's humorous still life paintings and Jill Downen's architectural installations that engage with time and space," Doud said.
A Kaleidoscope of Rhythm and Imagery
To cap off the winter exhibits, composer Steve Antosca will present a concert-length multimedia performance called HABITAT at 8 p.m., Friday, February 21 at the AU Museum. This technology venture, with composition, concept and images by Antosca, percussion and video content by Ross Karre, and audio and video technology by William Brent, is a bit of encore to the world premiere of HABITAT at the National Gallery of Art in November.
Utilizing the space of the museum, a surge of percussion and computer-generated visuals will immerse visitors with a trance-like performance, from a variety of stations. Custom-designed video tracking software by Brent—a professor in AU's Department of Performing Arts— will follow the motions of the percussionist. During the presentation, sounds may be thrown across the hall, stretched or shifted, while images are distorted, saturated or faded.
"The American University Museum is thrilled that Steve Antosca's HABITAT will be performed in the museum's curvilinear and soaring spaces," said Rasmussen. "HABITAT was one piece when it 'played' the National Gallery of Art last month, but will be different at the Katzen Arts Center as the Katzen is quite a different space or 'instrument.' The performance should be just as breathtaking."