Arts
Exploring Spontaneity in Concert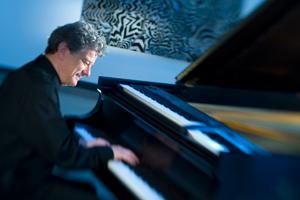 How does the audience become integral to the shape of a concert? The answer in many ways depends on the performer's ability to develop an intuition that pianist, composer, and AU Department of Performing Arts faculty member Jerzy Sapieyevski associates with the spontaneous adjustments of his piano performances. "Concerts today do not have enough spontaneity," he said.
In his upcoming concert, "NewCenturyMusicClub," Sapieyevski will explore the possibilities for dialogue and conversation within a typical concert setting. The concert takes place Sunday, October 28, at 5 p.m. in the Abramson Family Recital Hall in the Katzen Arts Center.
Sapieyevski is an award-winning composer and pianist who began his music studies in his native Poland. The Atlanta Symphony Orchestra, Manhattan String Quartet, and Tokyo String Quartet are just a few of the groups that have performed his classical compositions. Sapieyevski is especially interested in creating interactive works that weave various disciplines together. An example of his multimedia innovations is his "Painted Music" concert during which painters joined him on stage to create in front of an audience. Their brushstrokes also generated sounds.
NewCenturyMusicClub is Sapieyevski's tribute to American music, featuring the themes of Hoagy Carmichael, George Gershwin, Harold Arlen, Duke Ellington, and his own works. Blending elements of jazz and classical music, Sapieyevski will interpret various pieces according to the overall mood at the moment, achieving a new expression for these compositions.
While Sapieyevski has a general idea of the selections he will play, there is no set program. "I have certain themes I want to do but I try to sense how to create a mood that would communicate with the audience," he said. "It will be a free discussion. Everything in life is somewhat an improvisation."
As part of his preparations for the concert, Sapieyevski turns to his classroom. In class, he plays excerpts for his students without introduction of the title or composer and asks for their opinion on the overall mood and how they would put pieces together. He said he does this to determine how convincing his playing is. He currently teaches two courses in the Department of Performing Arts: Understanding Music and Music Fundamentals. Between concert selections, colleagues Robert Aubry Davis and Marc Medwin will join Sapieyeyski on stage to further color the performance with their commentary. Davis is a DC native, AU alumni, and fixture in the community, creator and host of nationally broadcast radio program Millennium of Music and host of Around Town on WETA. Medwin is an assistant professor of music at American University and active music journalist. NewCenturyMusicClub is an extension of Sapieyevski's projects "Are You Blue?" and "Are You Blue 2?" They were performed at American University in 2010.
For more information about Sapieyevski's work, visit his web site.