Arts
Art Dean, Curator Discusses Top Artists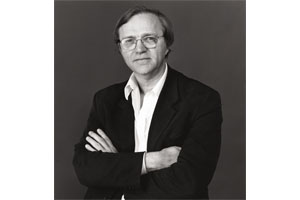 Arts and entertainment, although readily available today at every turn from TV to the internet, are not all created equal—one must look deeper for a more profound experience.
"Contemporary art offers real substance—it's better than reality television. While people are infatuated with watching other people, contemporary art asks for more effort out of the audience than any other media and imparts a better pay off," says Robert Storr, dean of the Yale School of Art and consulting curator of Modern and Contemporary Art at the Philadelphia Museum of Art.
His talk, titled "Multifariousness: Louise Bourgeois" on Thursday, November 4, 2010, at 6:00 p.m. in the Katzen Arts Center's Abramson Family Recital Hall, includes a discussion of the French-American artist and sculptor Louise Bourgeois, who passed away in May 2010, as well as the works by German painter Gerhard Richter and American mixed-media artist Bruce Nauman.
"These are three out the 10 most famous artists in the world right now and Gerhardt's paintings are some of the most expensive at the moment," he says. "All are influential to younger artists and have changed the way we think about art in general." Louise Bourgeois, for example, had "more influence on the world of art at [age] 90 than some artists ever see in their lifetime."
Bourgeois, full of meaning and symbolism, and influenced by European Surrealism, composes sculpture from wood, rubber, bronze, or stone, and references dominant themes of her childhood, relationships, and past.

Richter, credited with invigorating painting as a medium during a period when many artists chose performance or ready-made media, creates blurred paintings of photographs that are both close to reality and far from reality.
Nauman, recognized as one of the most inventive and provocative of America's contemporary artists, works in the diverse mediums of sculpture, video, film, printmaking, performance, and installation.

Storr, described as "a vital link between the museum world and academia" and named "one of the most influential people in art" in 2006 by New York magazine, hints that art suggests a more significant and honest reflection on our everyday lives than any other vehicle in which we engage.
Storr also implies that one should expect a revelation and be open to it. "It is still possible to surprise people," he says, with a promise to "introduce [the audience] to artists that may astonish—a really good artist wants to connect with their audience."
All of these artists wish to communicate "something powerful," he says. "People will find that contemporary art is for them after all."
This lecture is part of RECALL: Looking Back Looking Forward, the Department of Art fall colloquia series. For information about the series, visit the colloquia webpage.