Alumni
Psychology Alum Merluzzi on a Mission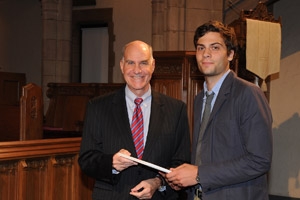 Question. Research. Hypothesize. Test. Analyze. Report. Repeat.
For Andrew Merluzzi '13, this is the rhythm of life. Merluzzi, who graduated with a bachelor's degree in psychology this spring, has not only studied in his field over the past four years, but immersed himself in it. "I am excited by the simple power of the scientific method," says Merluzzi. "It's a concept we all learn in middle school and then forget afterward, but one that has been the basis for so much progress in the last several centuries. To be a part of that progress—even in the smallest way—gives me great pride."
Merluzzi was honored with the University Student Award for Outstanding Scholarship at the Undergraduate Level at this year's commencement.
Working in AU's psychopharmacology lab alongside Professor Tony Riley and recently minted PhD student Zachary Hurwitz, Merluzzi has consistently shown his passion for psychology, specifically in the area of psychopharmacology. Last year he was honored at the Georgetown Undergraduate Research Conference for his research on adolescent drug abuse and received the award for best undergraduate presentation at the College of Arts and Sciences' Robyn Mathias Student Research Conference. In addition to the lab at AU, Merluzzi has also conducted research at the National Institutes of Health, the Association for Psychological Science (APS), and the National Institute for Neurological Disorders and Stroke.
"Working at AU provided me great experience conducting research in a group setting, but there are a lot of differences between research that goes on at private universities and public research institutions like NIH," says Merluzzi. "Working at NIH exposed me to some of the bureaucracy and red tape involved in science that helped me better understand the challenges in the field."
While at APS, Merluzzi worked to translate new psychological findings into press releases for journalists and news outlets. "At APS I learned a crucial step in scientific research—translating it to the public," says Merluzzi. "I've since become very interested in how the public understands science and how science can inform the important decisions we face as a society."
Merluzzi's passion for using science to help others translated into volunteer work at both Sibley Hospital and AU's Health Center. In Sibley's psychiatric unit, Merluzzi helped patients transition to life outside the hospital after receiving treatment for depression. "For some patients, this treatment was the very last resort after medication and therapy were ineffective," says Merluzzi. "Over months of treatment, seeing several patients recover was extremely rewarding."
Merluzzi's newest research centers on the recently surfaced abuse of "bath salts." Finding very little research dealing with the effects of the drug on teenagers, Merluzzi conducted an experiment using rats to understand the drugs' effects. "We found that adolescent rats are less sensitive to the aversive effects of the drug, and therefore might be more likely to abuse it," says Merluzzi. "So in addition to the impulsivity and novelty-seeking behavior we find in adolescents, they might also have some innate vulnerability to use and abuse this drug."
This summer Merluzzi has taken a full-time position with the Association for Psychological Science, where he will continue making science accessible to the public by writing for the organization's magazine the Observer and examining psychological issues from a variety of perspectives.
Merluzzi says the key to his success has been the relationships he has built with faculty over his four years at AU. "The most important thing an undergraduate can do is be proactive," he says. "Harboring a positive relationship with a professor is the surest way to get your foot in the door . . . if you have research questions in mind, bring it up with a professor. They are experts and can offer you important readings or advice that can make all the difference. There are so many opportunities here; you just have to go get them."