Alumni
Meet Hailey Russell, recipient of the 2013 AU Alumni Association Scholarship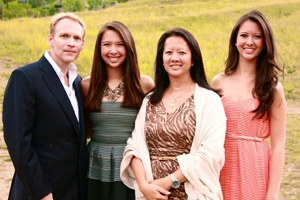 "It's funny to think I'll be a freshman at AU because I dreamt of attending AU when I was a little girl and now my dream has come true."
So says new student Hailey Russell, Kogod/BSBA '17, who is continuing an American University legacy begun by her parents and her sister. The sister of Kiera Russell, SIS/BA '15, and the daughter of Michael Russell, Kogod/BSBA '86, and Christine Moo-Young, Kogod, BSBA '87, of Miami, Hailey is the 2013 recipient of the Alumni Association Scholarship. She plans to pursue undergraduate studies in business administration at the Kogod School of Business
It's safe to say that Washington has always been a part of Hailey's life. "I actually first visited D.C. when I was still in my mother's womb," she says. Then, when she was nine years old, her parents took Hailey and her sister to AU so they could show them their alma mater. "It might sound a bit dramatic, but the moment we walked onto the campus quad, I felt comfortable and happy," adds Hailey.
When it came time to select a college to attend, Hailey knew that AU was the perfect fit for her. "American University, and more specifically Kogod, has the right blend of academic rigor with a student/teacher ratio that is right for me. There is a very healthy student social life, and AU is located in the most vibrant city in the U.S.," says Hailey.
When she's not on campus, Hailey plans to spend time revisiting the Newseum, the National Geographic Museum, and the United States Botanic Gardens because those are three of her favorite places in Washington. "The Botanic Gardens and National Geographic Museum are always changing and worth visiting multiple times each year. In addition, I am looking forward to going to the Cherry Blossom Festival in spring because the trees are so beautiful during that time of year," says Hailey. She also mentions participating in a popular AU tradition - trick-or-treating on Halloween along Embassy Row.
Like many AU students, Hailey has been busy this summer. She travelled to Europe for the first time, enjoyed meeting future classmates at Eagle Summit, and volunteered in Jamaica with an organization that Hailey and her sister created called Smile For A Child. The program supports school children in Jamaica by providing much-needed school supplies.
The Alumni Association Scholarship provides financial support to students whose parent or grandparent holds a degree from American University. The scholarship, worth  $5,000 per year toward tuition, is renewable for a maximum of four years and is funded through the AU Alumni Association Endowed Scholarship Fund and the Alumni Audit program.
The scholarship is awarded based upon the student's academic record, demonstrated leadership abilities, their connection to American University, and an essay describing how their parent's or grandparent's experience at AU influenced their own decision to attend AU.
While at AU, Hailey plans to pursue internships in real estate and banking. Like many freshmen, Hailey is uncertain what she'd like to do once she graduates. "Maybe in two years I will have a better grasp of what my future holds. Until then, I want to enjoy and savor every moment I can while at AU," says Hailey.