Arts
Membership at the AU Museum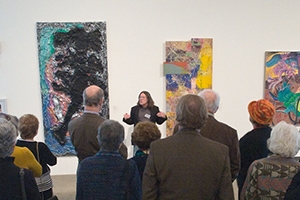 The American University Museum at the Katzen Arts Center prides itself on its contemporary artistic offerings, focusing on international art, political art, and local (D.C.-based) art. Still a young museum—the museum was founded in 2005—it has quickly risen to prominence in the area.  
The support of its members is crucial to continuing to provide the same caliber of artwork. Members provide an organization with stability—a support base to depend on—and this rings true for the AU Museum. Not only do exhibitions, special events, and programming quality increase with a wider support base, but in an effort to make sure members' experiences are as happy and fulfilling as possible, the museum relies on feedback from their education programs, tours, and volunteers. Money from membership goes into an account restricted for programming.  
As primary curator, museum director Jack Rasmussen keeps a few things in mind when devising exhibits. Because it's such a big space that supports six to seven exhibits at a time, he wants there to be some sense of internal structure, so that exhibits reinforce each other. "I try to orchestrate the shows. They are all part of a suite, if you will," he says.  
In keeping with the Katzen Arts Center's interdisciplinary atmosphere, visitors will find more than visual arts on display. Recently, the museum instated a program to bring music into the galleries. Earlier in the year, Israeli pianist Alon Goldstein gave a concert in the gallery among the Donald Rothfeld Collection of Contemporary Israeli Art on exhibition. Museum staff are also looking at other opportunities to extend membership benefits, including offering members trips to other museums, such as the Barnes Foundation in Philadelphia. Members receive notice of all upcoming events and are able to secure spots sooner than the general public.  
At an associate-level and above, a member receives access to special events that a non-member would not. Member-only events include private tours before the opening of a new exhibit with Rasmussen. "A membership offers the opportunity to dig a little deeper into the exhibitions, the artists, and the thought processes of the curator in choosing the work," says Rasmussen.  
Katzen Circle members (the highest level) are invited to a private dinner with the director. The members also receive discounts to special programs like Kids@Katzen and to the museum store.  
For the full list of membership levels with benefits and to apply, visit the museum membership website. Membership levels include a student membership, priced at only $15 a year. Student members are invited to all openings and receive events-related publications. For $30 more, an individual membership ($45 per year) gives members a 10 percent discount at the museum store, Katzen Café, and Argo Tea, in addition to student membership benefits.