Arts
Colloquium Explores the Nonprofit Life Cycle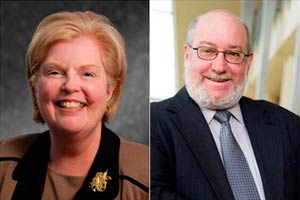 On Friday, November 13, from 4– 6 p.m. in the American University Museum, the Arts Management Program presented "Birth, Life, and Rebirth: Reflections on Change in Cultural Organizations." This colloquium featured Kathy Dwyer Southern, current president and CEO of the National Children's Museum, and Eliot Pfanstiehl, president and CEO of the Strathmore Hall Foundation.  
Inspired by Susan Kenny Stevens's book Nonprofit Life Cycles: Stage-Based Wisdom for Nonprofit Capacity, the colloquium was designed to inform arts management students about the "life cycles" that all visual and performing arts organizations inevitably undergo, according to Leila Smith, colloquium organizer and arts management professor.
The "life cycle" of a nonprofit organization usually begins with "birth", a start-up period that involves developing a mission, finding a space, developing a board of directors, and raising money. It is followed by "life," when the organization develops an infrastructure, raises money, seriously recruits audiences, and executes its mission.
Although some organizations do reach a terminal stage, many more go through first a decline and then a turnaround. A number of factors can lead to a decline, including competition from other organizations or lack of funding. The turnaround can take many forms, including a change of mission, a merger, or just a burst of new energy and dedicated leaders, according to Smith.
The current financial recession has caused endowments to fall and donors to gradually cut back on their contributions to arts organizations. As a result, some organizations are moving through the cycles more quickly than they might have in more certain times, says Smith.
Smith says she chose Southern and Pfanstiehl to speak because of their experience with numerous organizations that have undergone life cycles of their own. Both serve on the AU Arts Management Advisory Council, and Southern will be teaching a class on financial management in the spring.
The Arts Management Colloquia are "professional development opportunities that extend beyond coursework," says Antonio Cuyler, program director and arts management professor. "[They] provid[e] opportunities for our students to integrate their learning through dialogic panels with professionals in the field."