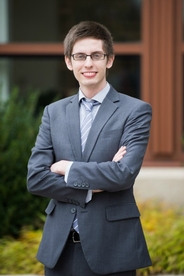 First Student to Graduate from the Asian Studies Program: Sean Dugdale

I came to AU in the fall of 2010 as an SIS major in the U.S. Foreign Policy program. I quickly realized that if our policymakers do not understand foreign countries, chances of effective cooperation in any part of the world would be slim.I was driven to the Asian Studies program to gain this knowledge. This intimate and well-run program was the perfect opportunity to find what had been missing in my studies: culture. Spending a year in Beijing on the Boren Scholarship opened my eyes to the importance of culture in international relations. From Kennan's "Long Telegram" to Vogel's Japan as No. 1 to contemporary bestsellers preaching the rise of China, many claim that culture defines a country's attitudes and shapes its perceptions of the world. But few people "get it right," few people understand. And fewer still can speak the language. So I chose to focus on Chinese language and East Asia within the program.

From the Boren Scholarship, I owe a great debt to my nation for providing opportunities to study abroad. I hope to repay that debt through work on East Asian climate, energy, and food security analysis for the federal government.

Sean Dugdale is is the first student to graduate from the Asian Studies Program in 2014. Sean is majoring in International Studies at the School of International Service (SIS) with a dual degree in Chinese and East Asian Studies.