Asian Studies Undergrad
Conference Grants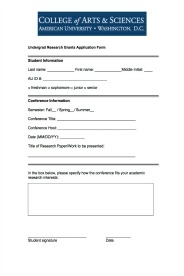 General Information

Students presenting their work at conferences may apply for funds to partially defray the costs of registration for conference in the greater Washington DC area. Interested students must submit the Conference Grant Application Form. Funding will be available for up to $100 through reimbursement if the student is found eligible.
When to apply:
Applications may be submitted as late as two weeks before. The conference dates determine the period for which the application will be considered. Funds are distributed on a first-come, first-served rolling basis.
Requirements and Restrictions:
Applicants must be full-time students pursuing an undergraduate degree and must have a minimum cumulative GPA of 3.5. Only one award can be received per academic year. In addition to attending the conference, funded students will have to submit a short description about their overall endeavor, including the following information:

Last and first name of the student
Major
Year of Study and intended date of graduation
JPEG Picture
200 words essay about the content of the attended conference and how this fits your academic research interest.
This short article and background information will become part of the Student Activities & Alumni section of the Asian Studies Program Website and will further help students build a solid network for future career opportunities.
Where to Apply:
Asian Studies Program Director Jin Y. Park
CAS - Philosophy and Religion
Battelle Tompkins - 115
Mondays 2:00-3:00; Thursdays 3:00-5:00
(202) 885-2919 (Office), (202) 885-1094 (Fax)
jypark@american.edu