Arts
Roaring Twenties Shine in The Wild Party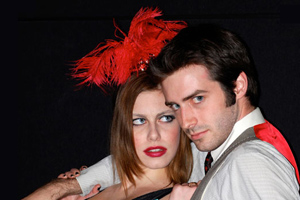 Theatre professor Gail Humphries Mardirosian reached a new milestone in an already productive career with The Wild Party, an award-winning play that was performed at the Greenberg Theatre on October 22. It was the 111th production directed by Mardirosian.
Adapted by Andrew Lippa from a book-length poem written by Joseph Moncure March, the play revolves around a young couple—a vaudeville dancer and a vaudeville clown—in New York in the Roaring Twenties. Their relationship losing the passion of their early days together, the couple throws a party for their friends, equally desperate members of the Lost Generation. Filled with wild excitement and developing love triangles, the party takes a violent turn. Each character stands out in a play where all try to escape responsibility, reality, and society.
"There's so much of this play that parallels our time," says Mardirosian. "It is a play about individuals desperately seeking meaning in a very complex society."
The Wild Party won Lippa the 2000 Outer Critics Circle Award for best off-Broadway musical of 2000 and the 2000 Drama Desk Award for best music.
Mardirosian has taught performing arts to AU students for over 20 years. She spent the 2008-2009 academic year studying in Prague as a Fulbright Senior Scholar. Other AU productions directed by Mardirosian include Cabaret, The Diary of Anne Frank, and Antigone.