Arts
AU Welcomes Four Artists for Fall Art Colloquia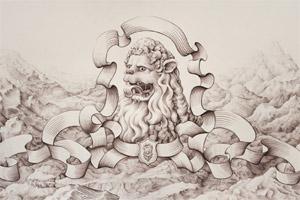 Beginning on September 20, American University will host the Fall Art Colloquia for Critical Inquiry series, held in the Abramson Recital Hall at the Katzen Arts Center. The series emphasizes the relationships between art and culture and seeks to stimulate dialogue among the faculty and students at AU, as well as engage the arts and academic community in the Washington metro area.
The colloquia will feature four artists who will discuss a range of topics vital to the creative and critical practice of contemporary art. "It's always a great opportunity to have artists and others from the world of art come and have that intellectual one-on-one time, and have that kind of interaction that leads to better conversation and group learning," says Camden Place, a second year graduate student in studio art. Place is a wood carving and video artist who is exploring "perceptual cues that men take from visuals around them; the way men see themselves and incorporate these perceptions into the world around them."  
The fall 2011 colloquia theme is the "Anti-Heroic." The anti-hero is considered a protagonist whose character is the antithesis of that of the typical hero, but elicits considerable sympathy or admiration. American University has invited Courtney Smith, Matthew Rich, Nicole Eisenman, and Saul Chernick to participate in the Fall 2011 Critical Inquiry Colloquia who represent the anti-heroic in their work.
First up is Courtney Smith on September 20.  Known for her complex pieces of deconstructed and then reconstructed furniture, Smith works in two seemingly opposite directions. In some of her sculptural work she breaks down whole furniture pieces into a myriad of modular parts, which then serve as building materials; in other works, she introduces uniform, fixed constructions as newborn objects of furniture. The resulting works stand in opposition to one another, in color, form, and concept, but come together to compose an imaginative domestic world.
Matthew Rich will present his work on September 27. The Bostonian's cut-and-painted paper work is influenced by mid-20th century abstract painting as well as the modern day. His work has been included in exhibits in including Chicago, Boston, San Fransisco, and Berlin. Rich received fellowships from the Massachusetts Cultural Council, the Terra Foundation for the Arts, and the Andrew W. Mellon Foundation.
Nicole Eisenman will speak on October 28. Eisenman's work moves gracefully in and out of genres, sifting through art's historical and contemporary concerns with a sharp and searing personal view. Her paintings have wit, facility, and great visual eloquence. She has shown extensively, including solo shows in Zurich, Berlin, Mexico City, Utrecht, and San Francisco.
Saul Chernick will round out the series on November 15. Chernick's images evoke the sensation of looking at something from an earlier time, but without historical accuracy. His art gives a sense of an invented past as could only be imagined in the present, just as the color and texture of a period film can date it more closely to the decade of its making rather than the era it portrays.
The unique aspect of the series is how each visiting artist interacts with students. Not only will students learn about the artists' thoughts and works, but they will also have one-on-one time in which the artists will discuss and critique the students' work, allowing them to dig deeper with the various artists. "Students discuss strategies for creating exhibition opportunities, community building, and acquiring funding and support for their work after graduate school," Danielle Mysliwiec, an assistant art professor, says. "The artists and writers who come to campus as part of the colloquia serve as examples of working professionals who are accessible to our students as mentors beyond our faculty. In addition, the diverse group of artists that visit serve as an example of the wide range of contemporary strategies for pursuing careers in the visual arts."
The first colloquium is open to the public and begins at 6 p.m. on September 20 in the Abramson Family Recital Hall at the Katzen Arts Center. For more information on the events and artists, visit www.american.edu/artcolloquia.