Arts
AU Symphonic Band to Perform on Veterans Day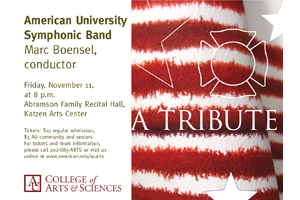 Songs that were written as a tribute to an event, person, or country have long been a vital part of music. From Tchaikovsky's "The Doll's Funeral" to Armstrong's "What a Wonderful World," even to recent music like Sarah McLachlan's "I Will Remember You," tribute music has spanned the centuries. That tradition continues this Veterans Day, November 11, when the American University Symphonic Band performs A Tribute, conducted by Dr. Marc F. Boensel.

A Tribute is not your typical tribute concert. Whereas other Veterans Day concerts and events focus on honoring the military soldiers who have served, lived, and died—and rightly so—AU's Symphonic Band is honoring a broader realm. "It is not just a concert of patriotic music, but one that contains pieces paying tribute to the individuals who sacrifice every day," says Boensel.

These everyday heroes include the soldiers, firefighters, police officers, airline pilots, medical personnel, and others who go the extra mile to help their fellow man. "Anyone at any moment can be called upon to go above and beyond what is expected, becoming a hero that day, in that moment," says Boensel.

The music Boensel chose for this occasion exhibits this importance of recognizing such a wide range of heroes. The program will feature songs ranging from the patriotic anthems, like John Philip Sousa's "Liberty Bell March," to the religious, like James Curnow's "Canticum," to works from classical operas, like Franz von Suppe's "Poet and Peasant Overture." "There is a great variety of music in the program, not just upbeat patriotic songs," Boensel says. "There are some that are merely prayers, and others that reflect upon the 'hero' as an individual—not wanting to be a hero, but finding themselves in the position to do what they must."

The American University Symphonic Band is, as Boensel says, "a classical concert medium." It is a 25-member ensemble. The musicians use woodwind, brass, and percussion instruments to perform concert music from the 18th through the 21st centuries.

Dr. Boensel has been conducting bands, orchestras, and choruses and has continued to perform as an oboist and vocalist in multiple states for over 25 years. In addition to being the symphonic band conductor in residence at AU, he currently serves as conductor for the Annapolis Wind Symphony, a 45-piece symphonic band that he founded in 1999. He serves as assistant professor of music and concert band director at Anne Arundel Community College and is the director of music for the First Presbyterian Church of Annapolis, where he directs the Chancel Choir, Handbell Choir, and children's choirs.

The American University Symphonic Band will perform their tribute concert on Friday, November 11, at 8 pm in the Abramson Family Recital Hall at the Katzen Arts Center. Tickets are $10 for regular admission, and $5 for the AU community and seniors.