Arts
Race-ing Art Final Events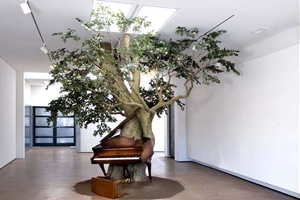 On November 9 and 10, the Department of Art presented the last two events of "Beyond the Binary: Race-ing Art," the fall 2009 semester's installment of its Critical Inquiries Colloquium Series.
On November 9, Sanford Biggers spoke in the Abramson Family Recital Hall. Biggers is a faculty member at Virginia Commonwealth University and visiting scholar at Harvard University. His installations, videos, and performances have been featured in venues around the United States and abroad.
On November 10, the series presented a panel discussion on the theme "Race-ing Art." Biggers was joined on the panel by Howardena Pindell, professor of art at Stonybrook University; installation artist Jiha Moon; Galo Moncayo, assistant professor of fine arts at Indiana University; and Isabel Manalo, adjunct professor of art at AU. The discussion took place at 6 p.m. in the Abramson Family Recital Hall.
"Beyond the Binary: Race-ing Art" aimed to examine artistic processes and analyses through the complicated lenses of race, ethnicity, and identity. Admission to both events is free.