Arts
AUSO to Play Ethereal, Earthy, "Sinful" Music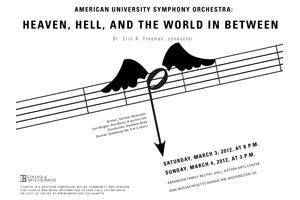 Over the centuries, composers have looked to both heaven and hell for inspiration in their writing. Famous examples include George Frideric Handel's Messiah and Franz Liszt's Faust Symphony. On March 3 and 4, the American University Symphony Orchestra will marry these themes into a Divine Comedy-inspired concert, Heaven, Hell, and the World In Between. 
The concert will begin by delving into hell, with Benjamin Britten's Soireés Musicales. The piece is an orchestral rendition of Gioachino Rossini's later works. After the famous opera composer retired, he wrote a collection of short pieces for piano and voice called Sins From My Old Age. Britten later took these and expanded them into symphonic orchestrations. They do not, however, have the typical evil feel that one might expect from a hell-inspired piece. They are playful, irreverent, almost fluffy-sounding dances. "I thought that would be a fun twist on the whole hell idea," says Dr. Erin Freeman, professor of music and conductor of the AU Symphony Orchestra. "So instead of getting into the diabolical, satanic part of hell, I decided to find music that gets into the playful, sinful part." The AU Chamber Orchestra, a smaller, further auditioned group from within the AU Symphony Orchestra, will perform the work.  
Next on the program is a set of works inspired by heaven. The first piece is the twelfth century chant, Ave Maria, O Auctix Vite, composed by Hildegard von Bingen, and it will be followed by a work that it directly inspired nearly 900 years later, Rainbow Body by Christopher Theofanidis. It is not the typical idea of heaven in the religious sense, but more of an idea of "the heavens." Rainbow Body begins mysteriously and understated, but then begins to grow, giving listeners a chance to close their eyes and feel as if they are soaring through the sky. "Theofanidis creates a completely modern sound with the orchestra in this piece," says Freeman. "It is the same standard orchestra, but the way he uses the orchestra makes it sound almost like it was processed through an electronic enhancer, with instruments sustaining notes so that you get a carryover of sound as if you pressed down the sustain pedal on a synthesizer. But everything is completely acoustic. It is a unique approach to orchestration and it's a really fun piece to play."
The concert wraps up with the earth part of the program, which features Antonín Dvo?ák's Symphony No. 8. Dvo?ák was inspired by folk music from his native land, what is now the Czech Republic. He used these melodies and rhythms to create music that reflected his nationality, and, as a result, his music has a folksy feel to it. "What I love about it is that it's not just earthy and human," says Freeman. "There are elements in the Dvo?ák that also touch upon the heaven and the hell." 
This "perfect symphony," as Freeman calls it, seems to connect with audiences time and again. "Dvo?ák's Symphony No. 8 isn't as popular as his ninth symphony, but when people hear it they're usually pleasantly surprised as to how much they like it," says Karyn Garvin, co-manager of the AU Symphony Orchestra. "It's very tuneful and full of what you might call catchy melodies.  I've actually found that those who aren't very familiar with classical music really connect with that piece."
While beautiful and artistic in their own right, the works were also chosen for the benefit of the students involved. Freeman chose the Britten because of the flexibility it provides, having been written for multiple combinations of instruments. She chose the Dvo?ák because it was the natural next step from their work with the classical lead lines of Mozart this past fall. And she chose the Theofanidis because it was written during the students' lifetime, and she believes it is important to play recently written compositions. "Every year students should experience new compositions," Freeman says. "When they chose their next musical experience, they will have the background and foundation on which to build." 
Heaven, Hell, and the World In Between will be performed on Saturday, March 3, at 8 p.m., and Sunday, March 4, at 3 p.m. in the Abramson Family Recital Hall at the Katzen Arts Center. Tickets are $15 for regular admission and $10 for AU community and seniors. For more information, visit the AU Arts website.