Arts
Department of Performing Arts Fall Season Announcement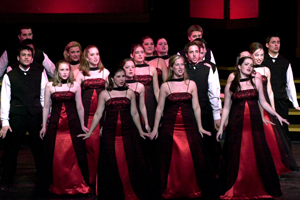 The Department of Performing Arts' fall season features an eclectic combination of music, dance, and theatre productions that showcase each program's talented students and faculty.
The theatre and musical theatre program will jump start the season with Perf-101, its annual showcase of new student talent, on September 25–26. It will be followed by productions of Lanford Wilson's The Hot L Baltimore on October 8–10 and The Wild Party, Andrew Lippa's musical about the darker side of the Roaring Twenties, on October 22–25. The New Works Series will also return with readings scheduled November 19–21 and December 2–3.
On October 3, the music program will present the fifth installment of the Gorenman Beethoven Project. Performed by Yuliya Gorenmen, acclaimed concert pianist and AU musician-in-residence, this eight-concert series features Beethoven's complete cycle of piano sonatas. The following Sunday, oboist and adjunct faculty member Meg Owens' will present a modern chamber music recital. Owens will be joined by music program director Nancy Snider on cello, Michelle Humpheys on percussion, and Scott Detra on harpsichord.
The department will also present a variety of musical performances by student groups, including the AU Gospel Choir on November 1, AU Jazz Ensemble on November 6, AU Wind Ensemble on November 8, AU Chamber Singers on November 14–15, and a joint concert featuring the AU Symphony Orchestra, Chorus, and Chamber Singers on November 20–22.
In addition, the dance program will present two performances. On Wednesday, November 11, Dance Choreolab will present works-in-progress created by AU's student choreographers. The performing arts season will close with the Winter Dance Informal Showcase on Sunday, December 6.
For additional information and tickets for these performances, please visit www.american.tix.com.