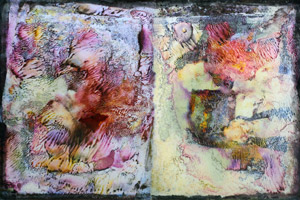 Don Kimes and his wife, Lois, had been away just over a week when they got a call from a neighbor back in D.C. Water was streaming under their front door, down their steps, and onto the sidewalk.
His wife rushed back to Washington and by the following day, the AU art professor's worst fears were confirmed. A water pipe had burst, leaving his entire art studio—including his computer, thousands of clippings and slides, most of his family photographs, and 25 years worth of sketchbooks and works on paper—under four feet of water. "When my wife told me, my knees just gave out," he recalls. "I was 50 years old and, in essence, the record of my life as an artist had been erased."
For months, Kimes would return home from teaching and spend his evenings trying to salvage portions of his photos, drawings, and paintings. "I would peel them apart, trying to get some pieces of the pictures back," he says. Over time, more and more of the original images would be lost, leaving only shadowy impressions.
But after several months, Kimes saw something beyond destruction in the traces of color and line. "I don't know why, but suddenly I found [a] strange beauty [in them]."
Kimes began to create new abstract images based on the remnants of the old. In the seven years since the flood, he has amassed a collection ranging from small works on paper to his customary large canvasses. A selection of these pieces will be featured in Pentimenti: After the Flood at the American University Museum from March 20 to May 1.
"I spent years and years talking about loving Pompeii or the ruins of Agrigento or walking through an Etruscan archway because of the way nature takes everything back, causing nature and culture to intersect in beautiful ways," he says. "When this happened to me, this external idea suddenly became very real and very personal."
"The flood," he adds, "turned out to be a gift."
—From "After the Flood," Connections Magazine, Spring 2010.