Arts
Putting the Arts in Arts Management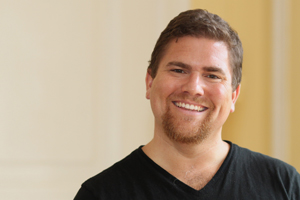 When arts management professor David Snider was five, he was chosen to be in the local high school play. "I just remember being up there and the lights coming on and feeling, 'this is amazing'," he says. Since then, he's wanted to be on the stage.
But while pursuing his MFA at New York University's Graduate Acting Program at Tisch School of the Arts, he started to change his mind about exactly where on the stage he wanted to be. "I was one of those actors who wanted to manage the room all the time, who always thought, couldn't we do this a little bit better?" says Snider.
Snider spent seven years in New York working in the theatre both as an actor and behind the scenes, and in between he worked as a temp, performing mostly administrative work. In 2001, he decided to combine all of these skills and work full time as an arts manager, running education programs for the Shakespeare Theatre Company in Washington, DC. "I got hired as a full-time arts manager because I had the necessary experience to do the job from day one."
In 2005, he was named the new artistic director of the Young Playwrights' Theater (YPT), a nonprofit organization that "teaches students to express themselves clearly and creatively through the art of playwriting." He is now the producing artistic director and CEO.
At YPT, Snider helped revamp the way the organization was run, including creating new assessment tools and rebuilding the staff. When he started at YPT, each staff member had a specialty, but couldn't necessarily cross over into other parts of the organization if need be. Now, each staff member is an artist manager. "They're people that have an artist's discipline and they also have administrative expertise," Snider explains. "That's where I come from too—looking at arts management as an artistic discipline in and of itself."
Arts managers aren't confined to the theatre, though. "When we talk about arts management, we're talking about people who create the financial and spatial opportunities to create and support work," he says. "Whether it's somebody who's managing a museum or a dance company or a professional theatre company, they're the people on staff who are making the opportunities for art happen."
Snider wanted to pass his industry knowledge along to others, and he began teaching classes in the arts management program at AU in 2011. "It seemed like a great opportunity to do some more teaching and have an effect on the field in a broader way, to help the next generation of arts managers," says Snider. "I wanted to help people who are like me, who come at arts management from an artist's point of view and are thinking, how do I cobble all this together?"
He's enjoyed working with students in the graduate program here, and he's noticed that many of them are career changers. "One of the interesting things about this economy is people are making life choices now based on what they really want to do," he says. "Some people are saying, well, I might not make $200,000 doing this other thing anyway, so why don't I do what I really want to do, which is manage a dance company?"
Those aspiring to be arts managers don't have to have a degree—Snider acknowledges that there's more than one route. "You intern and you work with people for free to get the skills and insights you need, or you can do something like the program at AU, where you do a master's degree for two years that gives you a quick shot of skill-based learning and experience," explains Snider. "Good writing skills, organizational skills, a love and inspiration for the work—that's the package."
Snider emphasizes the importance of making connections with others in the arts management field, and he's setting a great example. Beginning in fall 2011, he began participating in the National Arts Strategies' Chief Executive Program. Every few months for a year and a half, the 100 chosen participants meet in smaller groups to discuss arts management issues. There's also an online marketplace where each participant can spend $2,500 virtual dollars on a participant-proposed collaborative project of their choosing. The top-funded projects get funded in the real world, outside of cyberspace.
So far, he's met CEOs that are doing innovative work all over the world, and they're able to talk about the "nitty-gritty" details of arts management, especially when it comes to the economy. "We're seeing shifts in the field that seem like the competition and the direness of the recession are pushing the evolution of organizations away from being so reliant on contributed income," says Snider. "We're thinking about the fact that we could be at the tail end of a period of government funding for nonprofits. The idea is, ultimately, hopefully, that we're finding some national and international partnerships and solutions."
Because of the uncertainty of the future of the arts, Snider encourages his students to be flexible. "Audience for the arts has plummeted over the last ten years," he says. "Arts management students need to be entrepreneurial and think outside of the box. It's about figuring out what kind of work they want to do and then constantly adapting."