Science
Students Work on Research that May Have Real Applications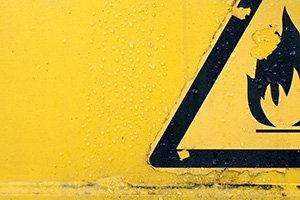 Undergraduate students who help chemistry professor Douglas Fox conduct research are doing more than building their skills in the lab—they are getting the opportunity to work on projects that may have real life applications and could even help save lives in the future.
Fox, whose research includes sustainable flame retardants, has been working on a project that has as its goal converting cellulose (plant material) into a flame retardant.
"Basically, you take cotton, put it in diet cola (which has phosphoric acid), and heat it up," says Fox. The phosphoric acid reacts with cellulose forming a non-flammable char that, when placed in plastics, can help reduce their propensity for burning.
The U.S. government has funded Fox's research because of its potential usefulness in places such as airliner cabins, which are filled with plastics that give off poisonous gases when on fire. Fox says the recent crash of Asiana Flight 214 in San Francisco demonstrates how flame retardants are supposed to work, as well as why they are needed.
"Some people think flame retardants should not be used because many of the best ones are toxic and the materials that have them will catch on fire anyway," Fox said. "But this recent crash shows why we need retardants—most people survived in part because the flame retardants delayed the time it took for the plane to catch on fire, providing people minutes, not seconds, to escape."
While Fox's most recently published research on the cellulose-into-flame-retardant project is not directly related to flame retardants used on aircraft, it is applicable to the electronics/computer and textiles industries.

Three students assisted Fox with this project, which is still in progress: alumni Jieun Lee '11 and Christopher J. Citro '11, and senior Melissa Novy, who graduated in May. 
Each student worked on different parts of the project. Some would do reactions with cotton, while others would mix char with polymers in an extruder, a machine with screws that melt the plastic, shred the cellulose, and mix them together. Other students would test the char to see whether it would burn. 
"A couple of the students are excited that their work is out there—being able to present their work at a national conference, having their name on the project, getting the opportunity to contribute something new," says Fox. 
A clear benefit of these research projects is that they give students lab experience that can help them get into graduate school. Fox finds another benefit. 
"I find working with undergraduates to be rewarding. For the students, it is a learning experience, and I can see their growth. One of the reasons I came to AU is that I liked the balance of research and teaching, and the students are adding to the progression of the research," he says. 
In the lab, students get the chance to take ownership of a project and contribute to the field of chemistry. 
"It's really great that at AU, I can just go up to a professor and they make themselves available. They want to see us get involved in the work," says Novy, who now plans to pursue a PhD in materials science. Doing research in Fox's lab helped her to figure out her interests and gave her confidence. 
The Chemistry Department plans to continue offering students opportunities to get involved in research projects. The success of the flame retardant plastics research has helped encourage the emphasis on hands-on learning in the lab.  
"We want them to have the research experience and see the whole process," Fox says. "They learn most from trial and error and the issues that come up in the lab." 
Another important lesson students are learning in the lab is about sustainability. "Not only does this work help benefit students, but it helps us contribute to the field of sustainability," says Fox. Sustainability is at the heart of much of Fox's research and he likes making students aware of the impact of what they are learning and how that knowledge relates to protecting the environment. One of Fox's past projects, for example, in which undergraduate students also conducted research in the lab, used easily available clay materials to develop flame retardants. 
"The Chemistry Department will continue to provide students with research opportunities," says Fox, "and there is a lot of potential opportunity for American University to grow and to become a leader in undergraduate scientific research."