Achievements
Nisbet Explores Role of 'Knowledge Journalists'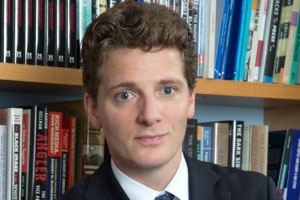 Matt Nisbet's office is a modern intellectual's haven, spattered with shelves of brightly colored books, a dimly lit lamp, and dark wooden armchairs.

The School of Communication professor hasn't been here for a while, though. He's been in Cambridge, Mass., for a research fellowship at Harvard University's Shorenstein Center on the Press, Politics and Public Policy at the Kennedy School of Government.

Nisbet was working on his recently released Shorenstein paper at the center, which discusses the influence of journalists as public intellectuals on today's most pressing social issues and trends. It is a lead-up to a new book he is co-authoring with SOC Journalism Professor Declan Fahy on the subject.

The project evaluates journalists' impact on topics ranging from globalization and economic growth to the food system and personal health.

Before taking the prestigious Harvard fellowship, the co-director of the Center for Social Media said he knew the work of the Shorenstein Center for a long time. He found it to be the perfect venue for understanding more about prominent journalists and public intellectuals as the storytellers of complex problems.

Analyzing Complex Policy Debates
Nisbet started his career in 2003 as a faculty member at The Ohio State University. He's moved up quickly at SOC since joining American University in 2006. Focusing on debates over science, sustainability, and public health, Nisbet takes multiple turns as a researcher and analyst, each with an eye on the role of communication in policymaking and public affairs.

He has been a health policy investigator at the Robert Wood Johnson Foundation and a Google science communication fellow. He is a prolific young scholar, and over the past decade has published more than 60 peer-reviewed studies, book chapters, and reports, which have been cited more than 2,500 times, according to Google Scholar, making him among the most cited researchers in the fields of science communication and political communication.

As a researcher and scholar, Nisbet feels it is important to be in the blogosphere. He writes and edits a blog called "Age of Engagement" on the website "Big Think" and is an online contributor at The Breakthrough Institute, where he authors a blog called "The Public Square." He is also a regular "Voices" columnist to the new environmental science web magazine Ensia.

"Intellectually it truly is social media. Though they have their downsides, blogs and other online formats provide a venue to translate and hone your ideas; to meet and learn about others," Nisbet said. 
"It's difficult to estimate just how many different scholars and professionals I have come to know first via social media; or the number of people at talks and conferences I meet who first learned of my own work via a blog."

Nisbet is, naturally, a bit of a public intellectual himself and his Shorenstein paper and book project with Fahy are the next stage in a growing prestigious body of work.


Bill McKibben as Journalist, Public Intellectual, and Activist
"Nature's Prophet: Bill McKibben as Journalist, Public Intellectual and Activist," published this week, examines McKibben's career and impact on the debate over climate change, drawing comparisons to other journalists and public intellectuals writing on the topic.

McKibben has been an influential voice on the environment for over two decades. He is the founder of the advocacy group 350.org, which has led campaigns against the Keystone XL oil pipeline and on behalf of campus divestment from fossil fuel companies.

"Scholars and critics understandably spend considerable time documenting perceived media biases and distortions, finding fault where the news media fail to accurately convey the complexity of a problem like climate change," Nisbet writes in the paper. "But in generating a litany of concerns, we seldom consider the super achievers and outliers among journalists."

McKibben is an example of what Nisbet calls "knowledge journalists," a special class of public intellectuals who write journalistically, but who unlike most of their journalistic peers specialize in the translation of complex subjects, often championing specific policy positions or causes.

They tend to view the world deductively, immersing themselves in the synthesis of complex areas of research, offering analysis across cases and events.  

"They are also sometimes criticized for their characterization of uncertainty, for imposing their point of view, for lacking specialized credentials, for reducing explanations to a single idea, theory, or field; and often, for blurring the lines between journalism and activism," Nisbet writes.

Nisbet opens the paper by introducing a broad framework for understanding the influence and career trajectory of journalists as public intellectuals; focusing on their training, style, celebrity, branding, and ability to frame complex problems.

He then details the career trajectory of McKibben, examining his main arguments across books; the intellectual traditions within which he writes; how his work has been received and evaluated by reviewers and scholars; and his turn in recent years to activism.

Nisbet notes that McKibben deserves immense credit for being among the first to call attention to the problem of climate change; for his ability to articulate a compelling vision of a different kind of society; and for most recently, changing the way that environmental groups practice politics.

But, according to Nisbet, what he worries about "is that McKibben's arguments for action on climate change evoke a vision of the future that reflects his own values and priorities, rather than a broad, pragmatic set of choices designed to both effectively manage the problem and to align a diversity of political interests in support of policy action."
The book project builds off of Nisbet's analysis of McKibben, but expands the analysis to focus on a diversity of other journalists who are writing about complex problems. The book is expected to include chapters on writers ranging from David Brooks and Naomi Klein to Michael Pollan and Malcolm Gladwell.

"Readers will be able to understand each of these as historical figures and through the intellectual traditions that they represent, deep diving into discussion and analysis of their major works," Nisbet said. "But readers will also have a better sense of the role that these journalists play as a unique class of explainers and advocates at a time of quickly changing trends in society, in the media industry, and in publishing."