Research
Biology Scholarship Gives Senior More than Stipend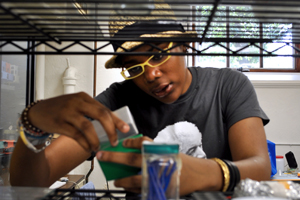 When Mobola Oyefule won the Gloria Likins Undergraduate Scholarship for Women in Biology in 2009, she earned more than just a research stipend to study the genetics of Gammarus minus in David Carlini's lab. "By working in the lab, I learned about methods and how to test a hypothesis," Oyefule said. "The award gave me the opportunity to learn skills that I can translate to any field in the future."
The Likins award aims to help women in biology acquire research experience and encourages them to consider careers in research. Oyefule plans to attend medical school after graduation and said that working in Carlini's lab gave her the opportunity to learn skills she never could have obtained in class alone.
"The experiments you do in biology class are not enough," Oyefule said. "I don't feel like I really understood what it meant to be a researcher before I started working in this lab."
In the lab, Oyefule studied the expression of visual proteins, also known as opsin proteins, within the eyes of two different populations of the shrimp-like amphipod Gammarus minus. This species, commonly found in the springs, streams, and caves of Appalachia, provided a good model for the study of intraspecific variation because different populations of this same species can live in considerably dissimilar habitats and develop slight differences in their gene structure.
Oyefule compared the proteins of a cave population to those of a surface population. She explained that while almost genetically identical, the surface population expressed more visual proteins than the cave population. A surface population, with access to enough light to use its sense of vision to find food, will genetically express the visual proteins. In contrast a cave population with exposure to little or no light will over time evolve to reduce the expression of metabolically costly but useless visual proteins.
"We're sequencing proteins and DNA, hoping to find exactly what is causing the differences in eyesight between the two populations. We want to know what's affecting the expression of these proteins," Oyefule said. The senior biology major hoped that this research would help scientists learn more about molecular evolution and eventually find analogous pathways in human genetics.
In the spring, Oyefule will present her research at AU's College of Arts and Sciences' research conference, for which she will prepare a paper, poster, and speech.
This is Oyefule's first research job. She works in the lab with both Carlini and AU junior biology major Laura Lee. Carlini explained that he had a sort of "symbiotic relationship" with his students in which they all benefit from each other. "[Oyefule] is gathering data for me, and we're eventually going to publish this. In return, I've trained her not only to collect data but also to analyze it and think about what she's collected," Carlini said. Oyefule said she received a solid training in research methods from Carlini, who taught her not only the procedures but also why they are important.
After graduating from American University this spring, Oyefule plans to study medicine with an emphasis on global development and public health. Originally from Nigeria, she hopes to someday return and practice medicine in her home country. Her ultimate goal is "to become the best physician [she] can possibly be."
In 2010, Oyefule also won AU's Hassa S. Shanker Premedical Achievement Award. This $2,000 prize is awarded each year to an outstanding undergraduate premedical student at American University. According to Oyefule, she chose to attend American University because of the academically solid premedical program, small class sizes, and close teacher student interactions. Outside of the Biology Department, she is involved in the university's Alternative Breaks program, through which she will lead a social-justice themed trip to study HIV/AIDS in Washington, D.C., this spring.
The Gloria Likins Undergraduate Scholarship for Women in Biology was endowed by American University graduate Gloria Likins. Likins graduated from AU in 1960 with a bachelor's degree in biology and then worked as an associate for the National Institutes of Health, according to AnewAU's Web site. Likins passed away in 2005 after having named AU the primary beneficiary of her estate, permanently endowing the scholarship.
Adapted from "Biology Scholarship Gives Senior More than Stipend" by Rachel Lynne Smith, Catalyst, Winter 2011.