Science
Student without Borders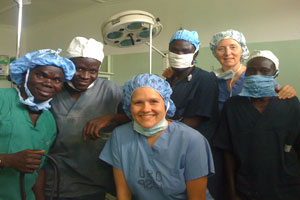 It was after midnight. A thunderstorm raged outside the little cement house, rain pounding the roof. Melanie Sion, CAS biology '04, lay awake in her bed in a village in southern Sudan when she heard a knock on the door.
"Excuse me, please, doctors?" came a voice out of the dark. It was a staff member from the local hospital. "There's an emergency." A woman was in labor and bleeding profusely.
Sion pulled on scrubs and boots and took off on foot through the downpour on muddied dirt roads to the hospital. This was day four of the Georgetown University medical student's spring rotation.
In her job as first assistant to the only surgeon in the region, Sion made rounds to every ward: pediatric, neonatal, maternity, and male and female.
Starting at 7:30 a.m., she first would visit the "worrisome patients," some days as many as 20, who required extra attention—children, mostly, suffering from pneumonia, malaria, fever, gastroenteritis, or some combination of these. Post-operative rounds, which could also mean 20 patients, came next. Three days a week, Sion and her attending surgeon might see 100 patients before noon.
If patients were abundant, resources were scarce. Gauze, she says, was treated like gold. Without adequate testing tools, Sion had to base her diagnoses on physical exams. And prescription medications were limited.
"It's not like here," she says, "where you have thousands of drugs and any one could be more ideal than the other."
By her fourth year in medical school, Sion had completed rotations in Sudan, Lebanon, Costa Rica, and Haiti. Her final project took her to Geneva, Switzerland, where she worked for the World Health Organization's Emergency and Essential Surgical Care Program. Appropriately, for her outstanding record, Sion was recognized by Georgetown medical school's Office of International Programs with a Warwick Evans Award.
She attributes her success in part to her premedical course work at AU.
"During the basic sciences of first year [medical school], much of the material was second nature to me because of what I had learned at AU," she says. "I was able to study hard and plan out the life I wanted for myself while feeling supported and encouraged by the mentors around me."
In June, Sion began her surgery residency at Thomas Jefferson University in Philadelphia, a major step toward achieving her childhood dream.
"Becoming a doctor seemed like the [perfect] intersection of all my interests: science, helping people, understanding illness, building personal relationships every day," she says. "It seemed like it could open up a world of experiences."
Oh, and the outcome of the story that dark and stormy night back in the village? Despite a series of power outages, the student and her attending surgeon managed to stave the bleeding, perform a C-section, and deliver a healthy baby.
"Lo and behold," says Sion, "they made it."