Research
Faculty and Student Research Collaborations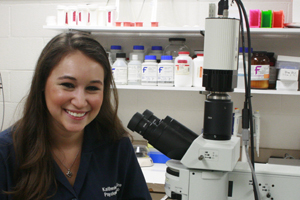 On a busy campus like American University, it is sometimes a challenge to stay abreast of all the research being conducted by students and faculty. 
The College of Arts and Sciences alone has 17 departments, and the range of research is broad and impressive. Biology professor Victoria Connaughton, economics professor Mary Hansen, psychology professor Anthony Riley, statistics professor Betty Malloy, and their students, discuss the collaborations in their respective fields below:
Biology
Victoria Connaughton, professor in the Department of Biology, is paying forward the positive undergraduate experience she had at Bucknell University: She's opened her visual neuroscience laboratory to interested students, giving them the opportunity to conduct independent research in her area. 
"I think the hands-on experimental aspect of science is very important," she says. "It allows students to learn laboratory techniques and to apply and 'see' concepts they have read about and learned about in the classroom." 
Connaughton and her students, undergraduate and graduate, are currently testing zebrafish retinas for exposure to different compounds like nicotine and glucose. The latter induces hyperglycemia, or high blood sugar, which, in humans with diabetes, can cause retinal complications. The goal is to develop a new model, using zebrafish, to observe the effects of prolonged hyperglycemia on the retina. Data from the research serves as the basis of a proposal that will be submitted to NIH before the end of the year. 
"There are zebrafish mutants with visual system defects localized to the retina, and some of these defects are characterized by symptoms that are similar to those seen in humans with specific visual problems, such as night blindness," says Connaughton. 
Her students are also conducting experiments on sewage waste and runoff in natural habitats to see how human-ingested chemicals affect animal life. For this study, they are monitoring exposures of fluoxetine (Prozac). 
"In many cases, it is not known what effect these chemicals have on the animals, such as fish, that inhabit the contaminated streams and lakes. If we know what the concentrations of contaminants are in those streams, we can perform lab studies to determine the chemical's effects," she says. 
While Connaughton continues to seek answers to her research questions, she never loses sight of her ultimate goal as a professor: to influence and expand the minds of her students. 
Lindsey Nugent, a recent graduate and former student of Connaughton, says that the mentoring opportunity was a primary reason she enrolled at AU. During the two years she spent in the lab as a grad student, Nugent used Connaughton's retinal slice preparation to isolate the eyes and retinas of cavefish and examine neuronal cells. She attributes her success to Connaughton. "As scientists we love facts and figures, but the thing about research is that anything can happen. You will have many more failed experiments than successful ones, but it's those successes that keep you going," says Nugent. "[Connaughton] pushed me so hard during graduate school, but she did so with comfort and respect. I was ready to quit a couple of times when it seemed like I would never get results, but she kept me going."
Economics
Imagine millions of square feet filled with paperwork from decades of bankruptcy court cases. Daunting, right? It's a challenge facing the National Archives. Economics professor Mary Hansen is homing in on the challenge and putting her students to work researching the underlying issue that is front and center in today's economy: debt. 
Hansen's recent grant from the Institute for New Economic Thinking supports her study of changes in bankruptcy law from 1940 to 2000, and in particular how women's indebtedness has changed during that time. 
"A lot of interesting changes happened in the middle of that time period," Hansen says. "The most important thing was that the participation of women [in the labor force] about doubled. You would expect the changing economic role of women to be reflected in their access to credit markets, in their rates of indebtedness." 
This rate of indebtedness is what Hansen hopes to measure, with input from her students. They will be closely examining original court documents from bankruptcy cases to measure changes in debt by gender over time. 
Hansen was drawn to the topic because of her interest in economic, legal, and social history. She is particularly excited to explore a topic that has been only narrowly covered in the past but offers insight into our current economic situation. 
While managing what she refers to as "largescale archival work," Hansen wants to ensure that her students take from the experience a new understanding of bankruptcy law and a new perspective on the research process in economics and history. They are assigned tasks relevant to their experience, interests, and academic focus. All of them, however, get to participate in the hard work: photographing and filing each document. 
The next step will be to identify trends and decipher meaning to better understand the complexities of women's indebtedness. "These students will know where the numbers come from. Being part of that datagenerating process is exciting for them, knowing that they're contributing to knowledge that no one had ever put together before," says Hansen. 
While the process benefits her students, Hansen gets satisfaction from observing them find meaning in the documents. She hopes that some students will use the data for their capstone topics. 
"Students get a real sense that economics is history, when it boils down to it. It's a reflection of people's lives; it's the foundation of people's everyday struggles," she says. "Watching students do that is a really rewarding experience."
Psychology
Psychology professor Anthony Riley has implemented a less conventional approach to doing research with his students: Rather than inviting them to work on his projects, he encourages them to develop their own studies. In his lab. Under his supervision. 
In 35 years of teaching, Riley has published with every student who has ever worked with him in the psychopharmacology laboratory. After they graduate, he continues to work with them to secure jobs in the field of psychology. 
"I see myself as a trainer and as a mentor," he says. "I want them to be equally creative and passionate, to have a topic that they enjoy, that they want to pursue — and that they can have the intellectual freedom to pursue a topic that simply excites them." 
Riley and his students are currently exploring ways in which drugs interact with each other, how drugs affect certain areas of the brain, how adolescents react differently to drugs, and more. He is interested in the mechanisms of drug intake and abuse, and he hopes that his research may contribute to the development of new treatment methods. By understanding the mechanisms, he says, he is able to determine how various drugs affect the body. "I can see how alcohol and cocaine interact," he says. "I can understand what parts of the brain might be involved. It's a difference between basic research and applied research." 
With so much ground to cover, Riley relies on the help of his students — 11 altogether. "I've got many students, and each is doing something different in that analysis," he says. 
For example, one student is looking at the mechanisms of the aversive effects commonly associated with abused drugs, as well as using neurobiological assays, or measurements of drug activity, in the brain to study which components and pathways are affected by the drugs. Another student is analyzing how drug history can affect drug vulnerability and abuse liability. 
Riley's students appreciate his dedication to their research and also his flexibility. Katie Serafine, a doctoral student in behavior, cognition, and neuroscience, says the ability to choose her assignments is what keeps her focused on the work she's doing with Riley. "We're allowed to generate our own ideas here; we don't get handed a project. I've never had to run an experiment that I wasn't interested in." 
Riley says he always looks forward to what the next batch of young minds might contribute to his research. "I hope [the future] holds the same as the past: that I continue to have the bright students around me, the support of the university, and the ability to pursue what I'm interested in. I have my own intellectual curiosity, and watching students understand and process these issues and take off on their own is really rewarding."
Statistics
Years ago, a graduate data analysis course lit a fire inside statistics professor Betty Malloy, and she's been burning for more ever since. "I had so much fun playing with data," she says. 
She's looking to pass along that same sense of fun and fire to her students any way she can, particularly by giving them opportunities to engage in research. For Malloy, statistics isn't just about crunching numbers: it's about looking for data trends and creating models to reveal information about anything from elephant fertility to traffic pollution. 
"Every day you wonder what it is you get to do that day, what you're going to discover," she says. "Whether it's a small discovery or you end up with a dead end, it doesn't matter. You always have this little bit of excitement, and you feel like high-fiving someone sometimes." 
Those high-five moments are what keep her busy working on so many projects, including analyzing auto workers' health risks, a project she has been working on since 2004. 
The General Motors United Auto Workers Study has Malloy and her students analyzing data from the National Cancer Institute to create models that assess health risks associated with hazardous working conditions. More than 40,000 employees were sampled across a span of 70-plus years. The study focuses on exposure to auto plant chemicals, which can cause disease and cancer. Malloy is trying to determine just how dangerous these chemicals can be to the overall health of the plant workers. 
"It's a really rich data set," she says. "There are lots of measurements, lots of different outcomes measured, and lots of different exposures that [researchers] have estimated. It's just a goldmine of information." 
Malloy and her students have seen some strange trends in their data that at first appear abnormal but make sense after careful thought. "It's interesting that a lot of times you see a downturn at the higher exposure, which would imply that the more you're exposed to the chemicals, the less you're at risk. This is counterintuitive," she says. "The unhealthy workers get sick earlier at lower exposures and drop out [of the work force], and you have what's called the 'healthy worker survivor effect.' People who are really healthy continue working at higher exposures, and it makes it seem like these exposures aren't bad for you." 
Working with these data has also been a joy for Malloy's students. "Betty's great—she's just too modest to say so," jokes Philip Gautier, a recent graduate and research assistant to Malloy. "I'm learning about techniques that are common and broad. There's so many that you can't cover everything in your course work, so there're a number that I'm learning from scratch in the research with Betty." 
Gautier meets with Malloy to discuss theories and methodologies associated with the study and implement them in programs that they design to catch data trends. They look at simulation studies and they talk about what works — and what doesn't work — in their data and programs. Currently, they're drafting a research paper about their results. 
After their close collaboration on the auto workers study, they will have to pursue their joint research from a distance: Gautier began his doctoral studies at Purdue University this fall. 
But after working with so many research assistants over the years, Malloy regards goodbyes as a bittersweet aspect of her career. "There always seem to be new things to find out and new people to work with, who bring in questions and make me think about things in new ways," she says. "We just have really good students. I feel really lucky."