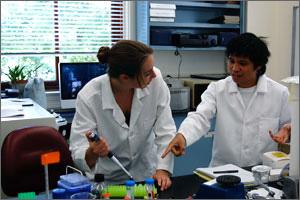 Name: Ariel Aspiras
Undergraduate Institution: American University, BS Biochemistry
Degree: MS Biology
Advisor: Dr. Angelini
Research Project: Studying how developmental genes function using the milkweed insects. The HOX genes and Leg Patterning Genes are well conserved across all species so the milkweed insects are a good model for this research. I am using RNA interference and quantitative real time PCR to better understand how these genes function. I am also studying eye degeneration in cave amphipods to learn more about the development of the eye in terms of evolution.