Writers in Motion: Reading the Fall, Writing the Recovery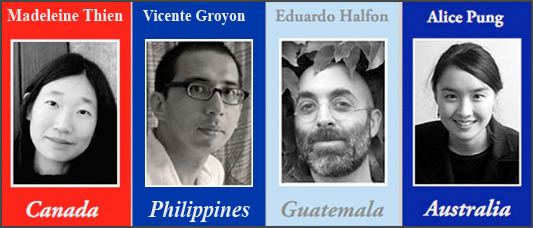 WHEN
Thursday, April 14, 2011


WHERE
Abramson Family Recital Hall,
Katzen Arts Center

Overview
Reading the Fall, Writing the Recovery will feature presentations by four well-established international authors who have been traveling around the Mid-Atlantic and the American South examining the different challenges presented by such crucial historical events as the Civil War, Hurricane Katrina, the BP oil spill, and the Civil Rights movement. The focus of their tour has been the American notion of creative destruction and self-determination—the idea that people are infinitely capable of rising from the ashes and are actually strengthened by it. The authors will offer their reflections on these wounds—fresh and long-standing—to both the American social fabric and environment in addition to sharing their perspectives on the unfolding roads of recovery.
Having both lived and explored in their award-winning works how communities and countries approach the complicated issue of regeneration, these four writers—Vicente Groyon (Philippines), Eduardo Halfón (Guatemala), Alice Pung (Australia), and Madeleine Thien (Canada)—will be reading from essays-in-progress on the difficult themes underlying social rejuvenation.
 

Program

Welcome
Peter Starr, Dean of American University College of Arts & Sciences
 

Introduction
Christopher Merrill, Director of the University of Iowa International Writers Program
 

Opening Remarks
Marjorie Ames, Cultural Programs Division Chief at Department of State Bureau of Educational and Cultural Affairs

Jim Leach, Former House Representative from Iowa's 2nd Congressional District and current Chairman of the National Endowment for the Humanities
 

Short Readings 
Madeleine Thien
Vicente Groyon
Eduardo Halfón
Alice Pung


Audience Q&A Session        
Moderated by Kyle Dargan, Assistant Professor of Literature and Creative Writing, American University

Author Bios
Vicente Garcia Groyon won the Manila Critics Circle National Book Award both for the novel The Sky Over Dimas (2004) and for On Cursed Ground and Other Stories (2005); he is the editor of several anthologies and collections of Filipino fiction. He has written four film scripts, including Agaton and Mindy (2009) and Namets! (2008), and directed several shorts. He teaches creative writing at De La Salle University in Manila.
 
Eduardo Halfon, born in Guatemala City in 1971, has an engineering degree from North Carolina State University. His novels include Esto no es una pipa, Saturno, De cabo roto, El ángel literario, El boxeador polaco, and La pirueta, which won the José María de Pereda Prize for Short Novel in Santander, Spain.  His short fiction has been published in English, French, Italian, Portuguese, Serbian, and Dutch.  He has taught literature at Guatemala's Universidad Francisco Marroquín; in 2007 the Bogotá Hay Festival listed him as one of "39 best young Latin American writers."

Alice Pung was born in Melbourne to Cambodian parents. Her memoir Unpolished Gem won the 2006 Australian Book Industry Association award for Newcomer of the Year, and other prizes.   Her work was included in Best Australian Short Stories 2007, and a story collection, Growing Up Asian in Australia, appeared in 2008.  My Father's Daughter will be released in 2011. A lawyer by trade, she contributes regularly to The Monthly and The Age.
 
Madeleine Thien is the author of Simple Recipes, a collection of stories, and Certainty, a novel, which was a finalist for the Kiriyama Prize and won the Amazon.ca/Books in Canada First Novel Award. Her work has appeared in Granta, The Walrus, Five Dials, Brick, and the Asia Literary Review, and been translated into sixteen languages. In 2010, she received the Ovid Festival Prize, awarded to an international writer of promise.  A novel, Dogs at the Perimeter, is forthcoming in 2011.

This event is produced with the generous support of the Bureau for Educational & Cultural Affairs at the US State Department, the International Writing Program at the University of Iowa, and the American University School of International Service and College of Arts & Sciences.