The Carmel Institute builds lasting connections between Russian and American youth through musical and theater performances, Russian and Soviet film screenings, conferences, student exchanges and trips, and art exhibits. The Institute offers grants to Russian and American students to study in each others' countries.


Sixth Annual Symposium-concert The Russian Experiment: Soviet Culture in the Twenties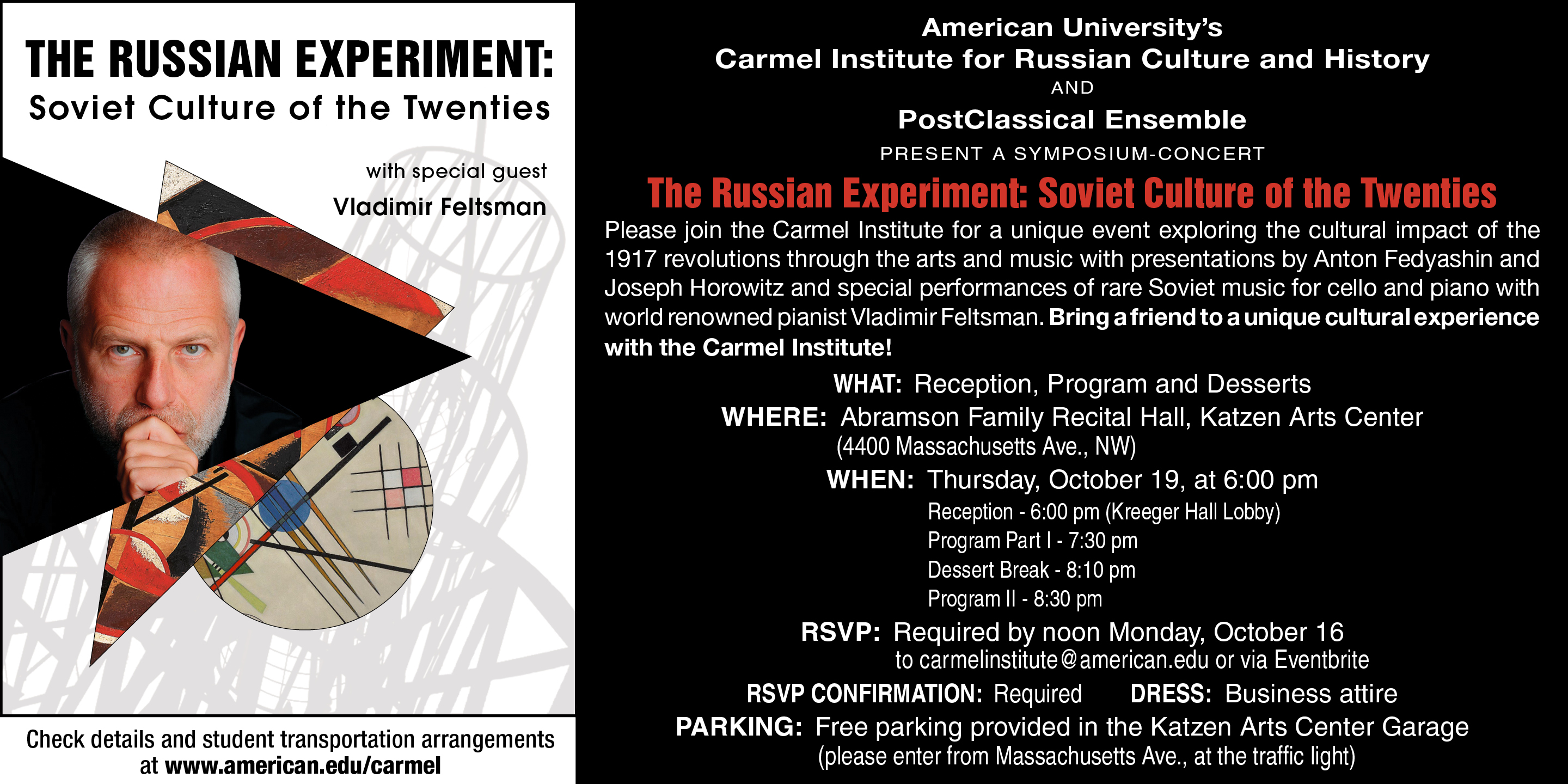 The Carmel Institute for Russian Culture and History in cooperation with PostClassical Ensemble presents a symposium-concert
The Russian Experiment: Soviet Culture of the Twenties
The Carmel Institute is co-hosting a unique event exploring the cultural impact of the 1917 revolutions through arts and music with presentations by Anton Fedyashin and Joseph Horowitz and special performances of rare Soviet music for cello and piano by world renowned pianist Vladimir Feltsman.
The evening's program:
RECEPTION - 6:00 PM (Kreeger Hall Lobby)

PROGRAM Part I - 7:30 PM

DESSERT BREAK - 8:10 PM
PROGRAM Part II - 8:30 PM
This event has limited seating capacity and is invitation-only. RSVPs must be received by Monday, October 16 at noon. RSVP confirmation emails must be in hand (on phone or paper) for entry into the event.
Please NOTE: this event is a first-come, first-seated event, even for ticket-holding guests. Seating capacity is limited so please arrive early.

PARKING AND TRANSPORTATION
Katzen Arts Center Garage will be available for parking and an American University shuttle runs continuously between AU-Tenleytown Metro Station to AU's Main Campus. Business attire is required for this event.
We are excited to offer this stimulating symposium-concert!
Vertov's Three Songs about Lenin
Film Screening
20 September 2017
Russian Embassy
White Sun of the Desert
Film Screening
11 October 2017
Russian Embassy

The Russian Experiment:
Soviet Culture in the 1920s
Sixth Annual Symposium
19 October 2017
Katzen Arts Center
American University
Film Screening
November 2017 TBD
Russian Embassy
The Carmel Institute: A Video Introduction
5:11
Learn more about the Carmel Institute's mission.