Science
Computer Programming Team Scores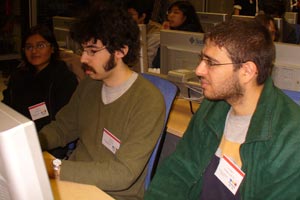 On November 7, AU's computer programming team competed in the International Collegiate Programming Contest sponsored by IBM and ACM.
Nine AU students formed three teams of three people each. The contest was divided by region and site, with AU competing in the Mid-Atlantic Region division at the George Washington University site. One team ranked third place out of 22 teams at the GW site and 19th place out of the 161 teams in the entire Mid-Atlantic Region. Its members were undergraduates Priyadarshini Komala, BS computer science '12, and David Plassmann, BS computer science '10, and graduate student Michael Levin, MS computer science '10. Undergraduates Patrick Trebisacci, BS physics '12, Batbaatar Burentogtokh, BS computer science '12, and Reid Cumbest, BS computer science '03, composed the second team, and undergraduates Tai Vu, BS computer science '12 Michael Repas, BA philosophy '10 and Josh Reese, BS audio technology and computer science '10, composed the third.
In the contest, individual teams were given eight problems to solve in five hours, using the computer programming languages C++ or Java. Rankings were decided by how many problems the team completed and how quickly they were solved.
The team prepared for the contest since September, with weekly practices on Monday nights. Angela Wu, team advisor and computer science professor, says that she is most proud that the students worked well together while practicing and in competition.
"I think [the practices and competition] build community spirit," she says. "Our students are good, motivated students who look at this as fun."
Students from nearly 2,000 universities from over 80 countries in 6 continents participated in the competition.