Alumni
A Bridge to Bangladesh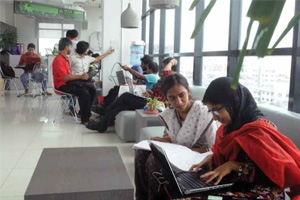 Sajid Islam found his passion. The "double Eagle" with two computer science degrees from AU—a BS in 1999 and an MS in 2003— works in Washington as a global software program manager at Hewlett-Packard, where he oversees software programs that generate $100 million a year in revenue. It's a fantastic job, he says—but that's not what excites him. 
Islam's passion is Shetu, a business he founded in Bangladesh in 2013. Named after the Bengali word for "bridge," Shetu grew out of Islam's desire to give back to the place where he was born and raised. 
Like a bridge which serves to connect and to facilitate free transfer, Shetu's mission is to span the gap between talent and opportunity in Bangladesh. As Islam explains, this means building an ecosystem in the country to create a space for free exchange of ideas and real-world support for entrepreneurs and tech startups. 
Islam worked for more than 13 years in Silicon Valley and saw the need to bring that creative and collaborative technology environment to Bangladesh. 
Lots of Ideas, but Nowhere to Work
"I wasn't seeing many startups from Bangladesh on the global stage," he says. There was not much innovation happening because the country lacks the infrastructure and a support system for it. Bangladesh has rampant unemployment and underemployment, especially among college graduates. That's where Islam is focusing his attention: on the country's educated youth, who have lots of ideas and energy but nowhere to work. He is looking to set them up in new ventures that will help to improve and expand the infrastructure. 
Islam flew to Bangladesh in November (he travels there every six weeks or so) to host the first Global Entrepreneurship Week, a free event for entrepreneurs who need basic training in how to jump-start their business. It was a heavily curated event, says Islam, and not open to just anyone. "We asked a series of questions to see how prospective entrepreneurs [would] take the knowledge and apply it to their community. . . . We want them to use it for good." 
Showing the Power of "We"
The goal of the event, he says, was to "light the fire" in Dhaka, the capital of Bangladesh, through workshops focused on business models, marketing, networking with other entrepreneurs and established businesspeople, building a knowledge base for running a business—and generally encouraging young people to explore their potential and be inspired. 
"We want to show the power of 'we.' That's the main thing we're driving at, and it has created a lot of buzz in the country." 
Networking and building knowledge are not the only ways that Shetu is investing in youth. The organization also offers a means of financial support for tech startups. Young entrepreneurs agree to contribute 10 percent of ownership equity and 10 percent of profits to Shetu in exchange for funds to launch their businesses. 
Islam has already invested all of his own money in Shetu. As yet, he has not raised any outside funds for the organization. "That's how much I believe in it," he says. 
At present he runs the organization, almost single-handedly, from the opposite end of the world. He typically starts his day around 3 a.m. (2 p.m. Bangladesh time), communicating with his two staff members there and student volunteers. 
Pursuing Togetherness Alone
While he may be going it alone to build Shetu, Islam believes in the power of collaboration and in sharing ideas with peers. His goal, and his goal for Shetu, is to create a space where that dynamic can happen. Space is hard to come by in Bangladesh, and in Dhaka it doesn't come cheap. But Islam has managed to secure a 3,000-square-foot meeting space where entrepreneurs can gather and share ideas and build relationships. 
"We need to create this atmosphere," Islam says, because "people should mingle, network. Things could come out of there, good things." He wants to see young people coming together, not isolating themselves. 
There's an African proverb he likes to quote: "If you want to go fast, go alone. If you want to go far, go together." And that is precisely where Islam wants to go.