Research
Cinema from North of the Border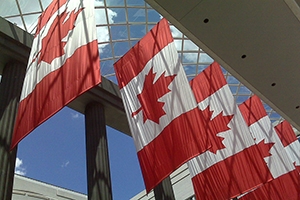 David Pike, a professor in the Department of Literature in AU's College of Arts and Sciences, is the author of a new book, Canadian Cinema since the 1980s: At the Heart of the World.  
Starting out as a fan of Canadian film, Pike began teaching Canadian cinema as a course at American University. In his new book, he offers a look into Canadian film from an outside point of view, critically approaching the topic by covering the history of Canadian cinema as well as popular Canadian genres. He also examines the impact of the ideas that have emerged in Canadian film.  
"Currently very few non-Canadians study Canadian cinema," Pike says. Explaining how Canadian film has been overlooked, he shows that Canadian cinema has helped to define Canadians in many ways. And Canadian film itself is divided: French Canadians really have their own cinema, separate from that of the rest of Canada. 
Film has a way of expressing culture and forming identities, Pike notes, and while Canadian cinema does this as well, it does not receive the recognition it deserves from the outside world. One way Canadian cinema can help define what it means to be Canadian is through narratives that are representative of Canadian culture.  
"A national cinema is supposed to represent a nation to itself, but what do you do with a national cinema that does not do that?" Pike asks. "Are movies supposed to just entertain us? What is their value and how can they tell us about ourselves and our culture?"  
Pike answers these questions by calling the value of film "limitless," a vehicle for understanding our culture that helps us construct our own self-identities in relation to our country through messages and nuances that resonate within the individual.  
Pike hopes his text will help advance the conversation around Canadian cinema, the ideas around national cinema in general, and understanding of the power film has in our lives and to help us understand our society and culture.  
Pike is the recent recipient of the American University Faculty Award for Outstanding Scholarship, Research, and Other Professional Contributions for 2013. His book Canadian Cinema since the 1980s: At the Heart of the World was published on December 12, 2012, by University of Toronto Press.