International
Kogod Professor Addresses International Conference on Capital Markets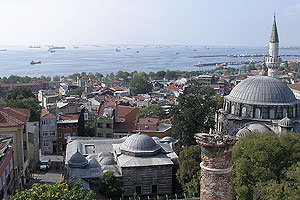 At the request of the U.S. Securities and Exchange Commission, Kogod Professor Kimberly J. Rodgers recently spoke at an international capital markets conference in Istanbul, Turkey, as one of the foremost economists in the area of credit ratings.
The conference, which was co-organized by the Capital Markets Board of Turkey and the SEC, had 300 participants, primarily from emerging markets, including industry professional and regulators from 13 countries. It took place at the Istanbul Stock Exchange.
Representatives from the SEC, CFTC, Financial Industry Regulatory Authority (FINRA) and PriceWaterhouseCoopers presented the U.S.'s regulatory best practices on surveillance, enforcement, and examination of market participants. The goal was to help emerging markets understand the pros and cons of the Western approach as well as international best practices as they continue to shape their own policies.
The conference was entitled "Maintaining Market Integrity in Turbulent Times: Surveillance, Inspection and Enforcement for Securities Regulators."
Rodgers spoke on the regulatory role that credit ratings play in capital markets: why the credit rating industry exists, conflicts of interest, and how credit rating companies are compensated.
Under the current system, NRSROs (or Nationally Recognized Statistical Rating Organizations) issue credit ratings that the SEC relies on for various regulatory standards.  Similarly, the Department of Labor employs the NRSRO ratings as a measure of quality in pension funds (under ERISA).  Other regulatory reliance includes banking and insurance regulators which use these credit ratings to establish capital requirements and to ascertain investment quality.
"There is a regulatory dependence on NRSROs such as Moody's and Standard & Poor's," Rodgers explains. "Many people now call for removing the NRSRO references in federal regulation, but the harder question is – What do you replace it with?"
Rodgers' talk demonstrated both the current use of NRSROs and the emergence of investor-paid credit rating agencies that avoid the conflict of interest inherent in the issuer-paid model. One tension, she explained, is between timeliness and stability. Traditional ratings agencies produce stable ratings that remain constant through the ups and downs of the economic cycle.  Some of the emerging independent agencies place higher priority on accuracy without regard to stability and thus update ratings more frequently. The latter can serve some audiences, such as individual investors, better. 
"To date, much attention has been given to increasing competition.  However, increasing the number of players doesn't adequately address the conflicts of interest," she concluded. "More issuer-paid agencies may exacerbate the potential for rate shopping.  Attention needs to be paid to how these players are compensated. Otherwise we may not end up with a better product, just a more expensive system."
Professor Rodgers' primary research interests include financial distress, corporate bankruptcy, capital structure, and credit ratings.  Her work has published in the Journal of Finance, Journal of Financial Economics, Journal of Financial and Quantitative Analysis, and Financial Management.
She first joined the Office of Economic Analysis at the US Securities and Exchange Commission in 2003, and later in 2007, to study the credit ratings industry.  She continues to provide OEA with periodic assistance on this topic.