In the Community
Seniors' Strategic Communication Plans Pay Off for Clients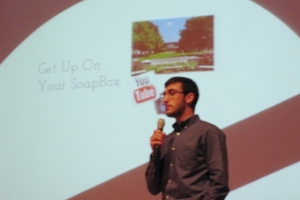 Complex strategic marketing plans were put into action for four D.C.-area clients this spring by American University students in professor Gemma Puglisi's Public Relations Portfolio class.
Students worked in groups to create marketing campaigns for Soapbox Soaps, Nepali by TDM Design, Girl Up and Rock Recovery, reaching out to the campus community, local media, blogs, and related organizations. Throughout the semester, the 22 students in the class worked to ensure the four clients' goals were met. Nepali by TDM founder Michelle Baldwin said "it was great to get so many fresh ideas." Alex Ramdin, another Nepali by TDM representative and an AU alum, added, "I feel like we reached a lot of outlets Michelle and I couldn't have reached on our own."
In their presentations, the students began by giving an overview of each company and its media presence as they existed prior to meeting the class. Next, students walked through the implementation of their strategic plans over the course of the semester, including holding events on campus, Tweeting, coordinating interviews, creating PSAs, pitching to businesses, writing guides, and using personal stories of employees to connect with the public.
At the end of each presentation, the groups detailed the achievements and reach of the overall project.
Erin Libit, Vice President/Director, Health Policy at APCO Worldwide, judged the campaigns. She remarked, "If we had had all of you working at APCO, we would have had a very profitable 15 weeks."
Libit selected the winning team, Nepali by TDM, based on the overall project--from the initial media analysis to outside-the-box ideas. The students received small prizes, and will have the chance to meet with Libit at her office.
Students were highly enthusiastic about the course. Heather Rameau from the Rock Recovery team said, "The value [of the class] was really high… In this class we not only developed the strategy, but enacted it… It prepared us for the real world." The course is a two-way street, Rameau reflected, and both students and clients benefit from the experience. Ramdin, now a client, had taken the class when she was in SOC, said that it was her favorite of her college career.