Research
AU History and Music Student Pursues Passions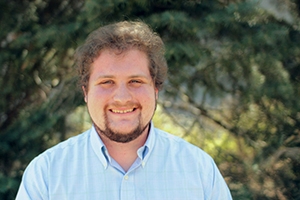 Zachary Kopin is making the most of his time at AU—both on and off campus. He is a bachelor's degree candidate in music, and a candidate for the combined BA/MA in history, with a resume full of high-level work experience, scholarly awards, publications, and community service. "I know it seems like I'm doing many different things, but when I'm working, I feel like I'm contributing," Kopin says. "There are some late nights, but at the end of it all, hopefully I'll know I've helped people."
Kopin started at AU as a music major, but quickly recognized his passion for history, and shifted his degree path to include both fields. Kopin feels that studying history will best prepare him for the world outside academia. "What you learn in school you need to be able to apply to life, and there are many lessons in history that enable you to do so," he says.
Of all of his endeavors, he is most excited about his current work with AU's Nuclear Studies Institute. Directed by history professor Peter Kuznick, the Nuclear Studies Institute offers classes, programs, and study abroad trips focused on different aspects of nuclear history, from the dropping of nuclear bombs on Hiroshima and Nagasaki to current efforts to curb the spread of nuclear weapons. As director of programming and outreach, Kopin is working to expand the Institute's web presence and program offerings, with hopes of adding more classes and hosting a symposium next school year.
"We're trying to make it into something that really reaches and affects people," he says. "I'm proud of the work, and I've had a lot of ownership over it. I feel like I've been able to make something from nothing."
Kopin has also worked with a wide range of history-centric organizations. Currently he serves as president of the AU student historical society, and he was a former teaching assistant in AU's Department of History, and a former research intern at both the Smithsonian's Wilson Center and the U.S. Navy's Naval History and Heritage Command. "I'm interested in how different people think," Kopin says. "The biggest lesson I've learned is that you should just apply to everything, even if you don't think you're going to get it. Ultimately, you need to trust your work. The worst thing you can do is limit yourself."
Kopin acknowledges that his professors' mentorship and guidance have been key in helping him reach his goals. "My professors have invested in me as an individual," Kopin says. "And because AU's class sizes are relatively small, I've been able to get to know pretty much everyone in the department, which is wonderful in terms of networking. It teaches you how to relate to people, and also how to relate to your professors on a human level."
Kopin also feels AU's size has been beneficial, giving him the opportunity to take on leadership roles, while still offering chances for collaboration with his classmates. "I think the school is exactly the right size," he says. "It presents enough opportunities for exploration and leadership. It's not too small to limit this, or too big to make it impossible for an individual to make an impact."
After graduation in 2015, he hopes to pursue a doctorate in history, and possibly an additional advanced degree in public policy. More than anything, he hopes he can continue to find ways to combine and pursue all of his interests—and continue working to benefit others.
"There's a quote by Harold Washington, a former mayor of Chicago, that I really try to live by," Kopin says. "He said, 'We have not just a right, but a responsibility to give the best that we have to our society.' If I keep using this to guide my work, then hopefully what I do really can make a difference."