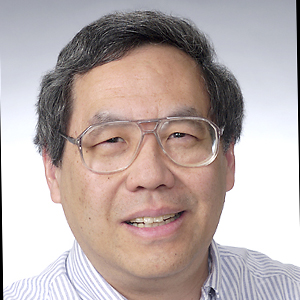 Albert Cheh
Department Chair, Environmental Science
Department of Environmental Science
Albert Cheh received a BA in Chemistry from Columbia and a PhD in Biochemistry from UC Berkeley. His research focuses on the biochemistry of enzymatic digestion of biomass to produce cellulosic ethanol biofuel. He recently supervised two NIH postdocs studying error-prone bypass DNA polymerase action at polycyclic aromatic hydrocarbon diol epoxide (PAH-DE) induced damage sites, and has studied PAH-DE reactions with DNA, water chlorination mutagens and toxic heavy metals.

Degrees

PhD, Biochemistry, University of California, Berkeley
BA, Chemistry, Columbia
Loading ...

OFFICE

CAS - Environmental Science
Beeghly - 304
M 12 Noon - 2 PM, Th 1:30-3:30 PM and by appointment
FOR THE MEDIA

To request an interview for a
news story, call AU Communications
at 202-885-5950 or submit a request.
---
Partnerships & Affiliations
Teaching
Spring 2013

ENVS-250 Living in the Environment
Fall 2013

ENVS-250 Living in the Environment

ENVS-580 Environmental Science I
Scholarly, Creative & Professional Activities
Research Interests
Mechanisms by which polycyclic aromatic hydrocarbon carcinogens found in cigarette and other smoke, and soot damage DNA and cause mutations and cancer.  Bypass DNA synthesis by Y-family DNA polymerases.  Enzymatic digestion of lignocellulose in the production of cellulosic ethanol.
Selected Publications
   
Chiapperino, D., Kroth, H., Kramarczuk, I. H., Sayer, J. M., Masutani, C., Hanaoka, F., Jerina, D. M. and Cheh, A.M.* Preferential Misincorporation Of Purine Nucleotides By Human DNA Polymerase Eta Opposite Benzo[A]Pyrene 7,8-Diol 9,10-Epoxide Deoxyguanosine Adducts" J. Biol. Chem. 277, 11765-11771 (2002).
   
Chiapperino, D., Cai, M., Sayer, J. M., Yagi, H., Kroth, H., Masutani, C., Hanaoka, F., Jerina, D. M. and Cheh, A.M.* "Error-prone Translesion Synthesis with DNA Polymerase Eta on DNA Containing 7,8-Dihydroxy-9,10-Epoxy-7,8,9,10-Tetrahydrobenzo[a]pyrenyl dA Adducts" J. Biol. Chem. 280, 39684-39692 (2005).
   
Chundawat, S. P.S.*, Bellesia, G., Uppugundla, N., da Costa Sousa,L., Gao,D., Cheh, A.M.,  Agarwal, U.P., Bianchetti, C.M., Phillips, G.N., Jr., Langan,P., Balan,V., Gunanakaran,S*. and Dale, B.E. Restructuring the Crystalline Cellulose Hydrogen Bond Network Enhances Its Depolymerization Rate,  J. Amer. Chem Soc. 133 (29), 11163–11174 (2011)
•  *corresponding author
Honors, Awards, and Fellowships
NIH Postdoctoral Fellowship Award, 1F32 ES05091, 1977-78
American University Award for Outstanding Teaching in the General Education Program, 2004
Work In Progress
He,Y.J., Yagi, H. Jerina, D. M.and Cheh, A. M.* Cytosine Methylation of CpG Increases Yield Of Benzo[c]phenanthrene Diol Epoxide Adducts at Adjacent A and Dibenz[a,j]anthracene Diol Epoxide +2 Adducts at G.
Cai, M., Sayer, J.M., Ohashi, E., Ohmori, H., Jerina, D.M. and Cheh, A.M.* "Limited Error-prone Bypass of Benzo[a]pyrene 7,8-Diol 9,10-Epoxide DE-2 Deoxyadenosine Adducts by    Human DNA Polymerase Kappa
Phillips, T. B., Cai, M., Sayer, J. M., Masutani, C., Hanaoka, F., Jerina, D. M. and Cheh, A.M.*, "Unusual rate acceleration of extension by DNA polymerase Eta at Benzo[c]phenanthrene Diol Epoxide dA adducts" *corresponding author