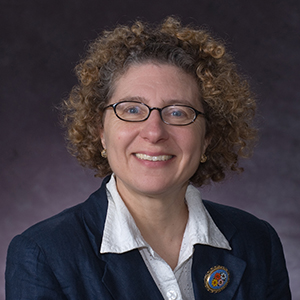 Anita Sherman
Associate Professor
Department of Literature
Anita Gilman Sherman studies 16th and 17th century literature, specializing in works that have problems of knowledge and interpretation at their thematic center. Her book, Skepticism and Memory in Shakespeare and Donne (Palgrave Macmillan, 2007), explores the repercussions of skepticism on representations of memory, history and temporality in Shakespeare and Donne, arguing that in their hands the art of memory becomes an art of doubt. Her current book project, "The Skeptical Imagination: Paradoxes of Secularization in English Literature, 1579-1671," extends her work on skepticism, developing its aesthetic and political implications. Professor Sherman has published essays on Garcilaso de la Vega, Herbert of Cherbury, Michel de Montaigne, Thomas Heywood, Shakespeare, and W. G. Sebald in such journals as Criticism, Shakespeare Quarterly, The Shakespearean International Yearbook, Medieval and Renaissance Drama in England, Studies in English Literature, Texas Studies in Language and Literature, the Journal of Early Modern Cultural Studies, and Sin Nombre. She enjoys taking students to the theater.


Degrees

B. A. Harvard University (History and Literature); M. A. Oxford University (Philosophy and Theology); Ph.D. The University of Maryland (English Literature)

Book Currently Reading:

Jacques Ranciere, The Emancipated Spectator


Languages Spoken:

Spanish, French, some Italian, rusty Latin
Loading ...

OFFICE

CAS - Literature
Battelle Tompkins - 217
FOR THE MEDIA

To request an interview for a
news story, call AU Communications
at 202-885-5950 or submit a request.
---
Scholarly, Creative & Professional Activities
Selected Publications
Publications
Skepticism and Memory in Shakespeare and Donne (Palgrave Macmillan, 2007)
Critical Essays
"Fantasies of Private Language in Shakespeare's 'Phoenix and Turtle' and Donne's 'Ecstasy'" in Shakespeare and Donne: Generic Hybrids in the Cultural Imaginary, eds. Judith Anderson and Jennifer Vaught (Fordham UP, 2013), pp. 250-278.
"The Politics of Truth in Herbert of Cherbury." Texas Studies in Language and Literature 54.1 (2012): 189-215.
"Forms of Oblivion: Losing the Revels Office at St. John's," Shakespeare Quarterly 62.1 (2011): 75 – 105.
"Shakespearean Vertigo: W. G. Sebald's Lear." Criticism 52.1 (2010): 1 – 24.
"The Skeptical Ethics of John Donne: The Case of Ignatius his Conclave."  Reading Renaissance Ethics. Ed. Marshall Grossman (Routledge, 2007): 367 – 405.
"The Aesthetic Strategies of Skepticism: Mixing Memory and Desire in Montaigne and Shakespeare."  Shakespearean International Yearbook 6. Ed. Graham Bradshaw,Tom Bishop and Peter Holbrook (Aldershot: Ashgate, 2006): 99 – 118.
"John Donne and Spain."  Studies in Honor of Denah Lida. Ed. Mary G. Berg and Lanin A. Gyurko (Potomac, Maryland: Scripta Humanistica, 2005): 71 – 83.
"Disowning Knowledge of Jessica, or Shylock's Skepticism."  Studies in English Literature 44.2 (Spring 2004): 277 – 295.
"The Status of Charity in Thomas Heywood's If You Know Not Me You Know Nobody II." Medieval and Renaissance Drama in England 12 (1999): 99 – 120.
"El Viento como Destino en la Obra de Garcilaso de la Vega." Revista Sin Nombre 14 (1984): 132 – 143.    
Research Interests
Renaissance literature, early modern philosophy, Shakespeare, drama, reception theory
AU Expert
Area of Expertise: Renaissance literature, Shakespeare

Additional Information: Anita Gilman Sherman is author of the book Skepticism and Memory in Shakespeare and Donne (Palgrave MacMillan, 2007).
 
Media Relations
To request an interview please call AU Media Relations at 202-885-5950 or submit an interview request form.