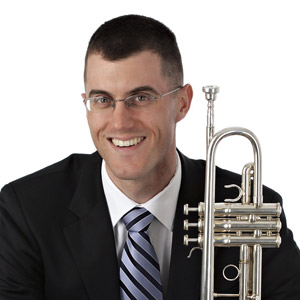 Benjamin Albright
Adjunct Professorial Lecturer
Department of Performing Arts
Originally from Niagara Falls, New York, Benjamin recently moved to the DC metro area after winning a trumpet position with "The President's Own" United States Marine Band. Dr. Albright completed his Doctorate of Musical Arts at the University of Michigan where he also earned Masters Degrees in both Trumpet and Chamber Music. While living in Michigan, Ben held positions in many area groups including the Lansing Symphony, the Saginaw Symphony, the University of Michigan Faculty Brass Quintet and the Michigan Chamber Brass. Ben also has performed with the Buffalo Philharmonic Orchestra under the direction of JoAnn Falletta and Marvin Hamlisch. He has played for concerts broadcasted on National Public Radio and can be heard on two new recordings for Naxos featuring the music of Aaron Copland and Ottorino Respighi. In addition to his busy performance schedule, Dr. Albright serves on the Trumpet faculty at American University.
Loading ...

FOR THE MEDIA

To request an interview for a
news story, call AU Communications
at 202-885-5950 or submit a request.
Teaching
Fall 2015

MUS-021 Private Instrument Study: Trumpet

MUS-022 Private Instrument Study: Trumpet

MUS-121 Private Instrument/Vocal Study: Trumpet

MUS-122 Private Instrument/Vocal Study: Trumpet

MUS-334 Private Instrument/Vocal Study: Junior Recital, Trumpet

MUS-434 Private Instrument/Vocal Study: Senior Recital, Trumpet

MUS-791 Private Instrument/Vocal Study: Trumpet

MUS-792 Private Instrument/Vocal Study: Trumpet
Spring 2016

MUS-021 Private Instrument Study: Trumpet

MUS-022 Private Instrument Study: Trumpet

MUS-121 Private Instrument/Vocal Study: Trumpet

MUS-122 Private Instrument/Vocal Study: Trumpet

MUS-334 Private Instrument/Vocal Study: Junior Recital, Trumpet

MUS-434 Private Instrument/Vocal Study: Senior Recital, Trumpet

MUS-791 Private Instrument/Vocal Study: Trumpet

MUS-792 Private Instrument/Vocal Study: Trumpet