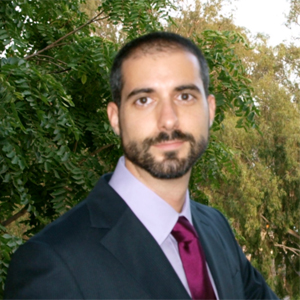 Luis Cerezo- Ceballos
Assistant Professor
World Languages and Cultures
Additional Positions at AU

Director, Spanish Language Program

Dr. Cerezo designs, evaluates, and implements audiovisual technology for second language learning. He is the author of Talking to Avatars, a computerized tutor that allows students to learn Spanish by interacting with pre-filmed actors. His empirical research investigates variables such as type of computerized practice, corrective feedback, and learner individual differences. Prof. Cerezo teaches courses in Spanish linguistics, translation, second language acquisition, language technology, and empirical research methods.

Degrees

Ph.D. (distinction), Spanish Linguistics, Georgetown University
Ph.D. candidate, Translation, U. of Málaga
M.S., Spanish Linguistics, Georgetown U.
M.S., Computational Linguistics, Georgetown U.
M.S., Machine Translation, U. of Manchester

Languages Spoken:

Spanish, English, Italian, German
Loading ...

OFFICE

CAS-World Lang and Cultures
McCabe - 213
T: 3pm – 5pm
FOR THE MEDIA

To request an interview for a
news story, call AU Communications
at 202-885-5950 or submit a request.
Scholarly, Creative & Professional Activities
Selected Publications
   
Cerezo, L. (forthcoming). Beyond hybrid learning: A synthesis of research on e-tutors under the lens of SLA theory. In F. Rubio & J. J. Thoms (Eds.), AAUSC Volume 2012: Hybrid language teaching and learning: Exploring theoretical, pedagogical and curricular issues. Boston, MA: Cengage Learning.
   
Cerezo, L. & Leow, R. P. (submitted). From amount of exposure and task complexity to boredom/fatigue and 'decomplexification': The revelations of a hybrid research design. Language Learning.
   
Cerezo, L., & Martínez, A. M. (2007). Broadening the scope of computer-assisted second language learning: Semantic vs. grammatical feedback for the instruction of Spanish 'tough' constructions. In D. Rus & A. Fidler (Eds.), Georgetown University working papers in theoretical linguistics (Vol. VII, pp. 67-104). Washington, D.C.: Georgetown University.
   
Cerezo, L. (2003). Teaching about Computers and Translation. Trans: Revista de traductología, 7, 11-19.
Honors, Awards, and Fellowships
   
2012 Harold N. Glassman Dissertation Award in the Social Sciences, Georgetown University.
   
2011, Teaching with Technology Award, CTRL, American University
   
2004-09, Teaching Assistantship, Dept. of Spanish and Portuguese, Georgetown University Graduate School
   
2000, First National Graduation Award for Academic Excellence, Spanish Ministry of Education
AU Expert
Area of Expertise: Spanish linguistics, second language acquisition, e-learning, language-teacher training, translation and interpreting, computer-aided translation

Additional Information: Luis Cerezo was born and raised in Málaga, a mini-Babel of sorts on the Spanish Mediterranean. His early interest in languages drove him to complete a BA in translation and interpreting at the University of Málaga, followed by graduate research in Germany, Italy, the United Kingdom, and the United States. Cerezo holds a PhD in Spanish Applied Linguistics from Georgetown University and is a PhD candidate in translation and interpreting at the University of Málaga. Additionally, he holds an MS in machine translation from the University of Manchester and two MS degrees from Georgetown University, in computational linguistics and Spanish applied linguistics. Cerezo has a passion for technology and visual arts and is the author of several language-learning applications and short films. In bringing these interests together, he developed Talking to Avatars,a computerized tutor that allows students to interact with prefilmed actors to learn Spanish in real-life situations. Currently, he is the director of the Spanish-Language Program at American University.
 
Media Relations
To request an interview please call AU Media Relations at 202-885-5950 or submit an interview request form.