Ibram Kendi

Professor & Director, Antiracist Research & Policy Center Department of History
Additional Positions at AU

Professor, School of International Service

Degrees

PhD, African American Studies. Temple University, 2010;
MA, African American Studies. Temple University, 2007;
BS, African American Studies, & BS, Journalism, Florida A&M University, 2004

Bio

Ibram X. Kendi is an award-winning scholar of racism and antiracism and a New York Times best-selling author. His second book, Stamped from the Beginning: The Definitive History of Racist Ideas in America (Nation, 2016), won the 2016 National Book Award for Nonfiction. At 34 years old, he was the youngest ever winner of the NBA for Nonfiction. Stamped was a finalist for a National Book Critics Circle Award, a Hurston/Wright Legacy Award, and a NAACP Image Award. Stamped was named to several Best Books of 2016 lists, including by the Boston Globe, The Root, The Washington Post, and Buzzfeed. The Washington Post also named Stamped the most ambitious book of 2016.

Professor Kendi is the author of the award-winning book, The Black Campus Movement: Black Students and the Racial Reconstitution of Higher Education, 1965-1972 (Palgrave, 2012). He has published fourteen essays in books and referred academic journals, including The Journal of African American History, Journal of Social History, and Journal of Black Studies. He has published commentaries in numerous periodicals, including The New York Times, Salon, Time, The Washington Post, and The Chronicle of Higher Education. He has provided commentary on a host of local, national, and international radio and television outlets, including NPR, PBS, CNN, BBC, Al-Jazeera, NBC, Democracy Now!, and Sirius XM. He has received research fellowships, grants, and visiting appointments from a variety of universities, foundations, professional associations, and libraries, including the Library of Congress, National Academy of Education, Rutgers Center for Historical Analysis, Brown University, and Princeton University.

Professor Kendi is the co-editor of the new Black Power Series with NYU Press, and he is the associate editor of Black Perspectives. His next book, which will be published by One World/Random House, is tentatively titled, How to Be an Antiracist: A Memoir of My Journey.

For all media inquiries, please contact Rebecca Basu (basu@american.edu), Senior Public Relations Management at American University. For all speaking inquiries, please contact Caitlin McCaskey (cmccaskey@penguinrandomhouse.com) of the Penguin Random House Speakers Bureau.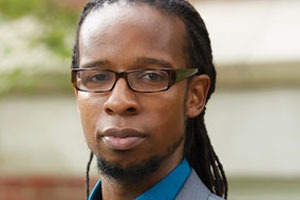 On Campus ·
Seeds of Change
Professor Ibram X. Kendi establishes the groundbreaking Antiracist Research and Policy Center at AU.
Full Story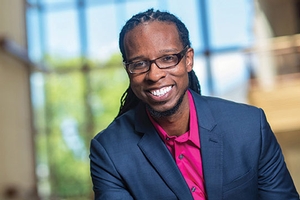 Achievements ·
Racism in America
AU Professor Ibram X. Kendi gives an interview on his National Book Award-winning book, Stamped from the Beginning.
Full Story