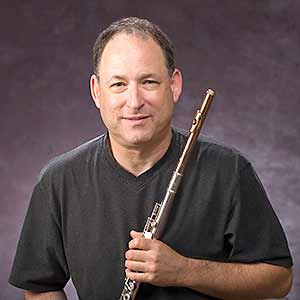 Jonathan Baumgarten
Musician in Residence
Department of Performing Arts
Additional Positions at AU

Musician-In-Residence

Jonathan Baumgarten is a flute instructor in the applied music program. He holds a MM from Juilliard where he was a scholarship student of Samuel Baron. He studied with Thomas Nyfenger on a National Endowment for the Arts fellowship and in Paris with Michel Debost. Mr. Baumgarten has been principal flutist of the Mexico City Philharmonic, and has made recordings for NPR and the Discovery Channel. He performs with the Kennedy Center Opera House Orchestra and other ensembles in the Washington DC area. He spends summers performing with the Bear Valley Music Festival in the High Sierra of California.
Loading ...

FOR THE MEDIA

To request an interview for a
news story, call AU Communications
at 202-885-5950 or submit a request.
Teaching
Fall 2015

MUS-021 Private Instrument Study: Flute

MUS-022 Private Instrument Study: Flute

MUS-121 Private Instrument/Vocal Study: Flute

MUS-122 Private Instrument/Vocal Study: Flute

MUS-334 Private Instrument/Vocal Study: Junior Recital, Flute

MUS-434 Private Instrument/Vocal Study: Senior Recital, Flute

MUS-791 Private Instrument/Vocal Study: Flute

MUS-792 Private Instrument/Vocal Study: Flute
Spring 2016

MUS-021 Private Instrument Study: Flute

MUS-022 Private Instrument Study: Flute

MUS-121 Private Instrument/Vocal Study: Flute

MUS-122 Private Instrument/Vocal Study: Flute

MUS-334 Private Instrument/Vocal Study: Junior Recital, Flute

MUS-434 Private Instrument/Vocal Study: Senior Recital, Flute

MUS-791 Private Instrument/Vocal Study: Flute

MUS-792 Private Instrument/Vocal Study: Flute