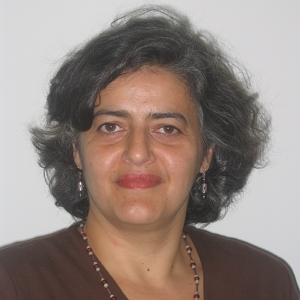 Despina Kakoudaki
Assistant Professor
Department of Literature
Professor Kakoudaki teaches interdisciplinary courses in literature and film, visual culture, and the history of technology and new media. Her interests include cultural studies, science fiction, apocalyptic narratives, and the representation of race and gender in literature and film.

She completed her doctorate in Comparative Literature at the University of California at Berkeley, and taught at Berkeley and at Harvard University before joining AU. She has received a fellowship from the National Endowment for the Humanities for her current book project, The Human Machine: A Cultural History of Artificial People, which traces the history and cultural function of constructed people and animated objects. She has also recently co-edited a new collection of essays on the work of Pedro Almodovar with Brad Epps (University of Minnesota Press, 2009), and has published articles on robots and cyborgs, race and melodrama in action and disaster films, body transformation and technology in early film, the political role of the pin-up in World War II, and the representation of the archive in postmodern fiction.

Degrees

PhD, Comparative Literature, University of California at Berkeley
MA, Comparative Literature, University of California at Berkeley
BA, English and American Literature/ Linguistics, University of Athens, Greece

Languages Spoken:

Modern Greek, Ancient Greek, Latin, French
Loading ...

OFFICE

CAS - Literature
Battelle Tompkins - 211
on leave for Fall 2009
FOR THE MEDIA

To request an interview for a
news story, call AU Communications
at 202-885-5950 or submit a request.
---
Teaching
Spring 2013

LIT-135 Critical Appr to Cinema

LIT-246 Cinema & the Twentieth Century
Scholarly, Creative & Professional Activities
Selected Publications
   
"World Without Strangers: The Poetics of Coincidence in Pedro Almodóvar's Talk to Her." In Camera Obscura: Feminism, Culture, and Media Studies—68. 23:2 (Sept. 2008): ii-39.
   
"Studying Robots, Between Science and the Humanities." In The International Journal of the Humanities, 5:8 (Dec. 2007): 165-182.
   
"Spectacles of History: Race Relations, Melodrama and the Science Fiction/Disaster Film." In Camera Obscura: Feminism, Culture and Media Studies—50. 17: 2 (May 2002): 109-153.
   
"Pin-up: The American Secret Weapon in World War II." In Porn Studies. Ed. Linda Williams. Durham: Duke University Press, 2004. 335-369.
   
"Pin-up and Cyborg: Exaggerated Gender and Artificial Intelligence." In Future Females, The Next Generation: New Voices and Velocities in Feminist Science Fiction Criticism. Ed. Marleen S. Barr. Lanham, MD: Rowman & Littlefield, 2000. 165-195.
Work In Progress
   
The Human Machine: A Cultural History of Artificial People.  A historical and theoretical approach to the discourse of the artificial person from antiquity to the 20th century. Single-authored book-length manuscript, in progress.  
   
All About Almodóvar: A Passion for Cinema. Co-edited with Professor Bradley S. Epps, Harvard University.  A new collection of critical essays on Pedro Almodóvar by international group of scholars. Minneapolis: University of Minnesota Press,  2009. Includes substantial co-authored "Introduction" and single-authored chapter. Edited Book, in print.
   
You can look at the book's description here:   www.upress.umn.edu/Books/E/epps_all.html
---