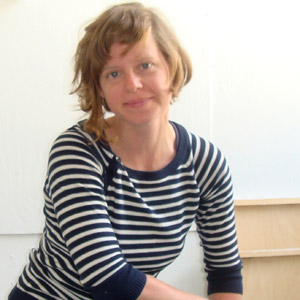 Danielle Mysliwiec
Assistant Professor
Department of Art
Danielle Mysliwiec holds a BA from Wesleyan University and an MFA from Hunter College. Mysliwiec's primary practice is focused on abstract painting. In addition, she co-founded the feminist performance group Brainstormers in 2005. Her solo and collaborative work has been exhibited in public spaces, galleries, and museums including The Brooklyn Museum of Art, The Bronx Museum of Art, Camel Art Space (Bushwick), Baer Ridgway Exhibitions (San Francisco), Heiner Contemporary and Project 4 (Washington, DC), Rutgers University and Kent State University among others. She has two forthcoming solo exhibitions of her paintings: Vox Populi (Philadelphia) in December 2014 and Novella Gallery (Lower East Side, NYC) in Spring 2015. Mysliwiec was awarded a full fellowship to the Vermont Studio Center in January 2014. Her work has been reviewed and sited in publications including The Brooklyn Rail, The Washington Post, ArtNews, Art Fag Ctiy, The San Francisco Examiner, and most recently in critic Ben Davis's new book 9.5 Theses on Art and Class. She has held teaching positions at Hunter College, The School of Visual Arts, Yale University, and San Francisco State University. She joined the faculty at American University as Assistant Professor of Painting and Drawing in the Fall of 2010.

Degrees

MFA, Studio art, concentration in painting, Hunter College
BA, Studio art, concentration in painting, Wesleyan University
Loading ...

OFFICE

CAS - Art
Katzen Arts Center - 216
FOR THE MEDIA

To request an interview for a
news story, call AU Communications
at 202-885-5950 or submit a request.
AU Expert
Area of Expertise: Painting and gender equity in the contemporary art world

Additional Information: In her current body of work, Danielle Mysliwiec creates abstract oil paintings which present themselves as intricately woven surfaces that are at once coming together and coming undone. In addition to being a painter, Mysliwiec cofounded a feminist performance group called Brainstormers in 2005, which challenges gender discrimination in the art world. She has exhibited her work with various galleries and museums including Baer Ridgway Exhibitions, Galeria Marta Cervera, The Peter Fingestin Gallery, Momenta Art, The Brooklyn Museum, and the Bronx Museum of the Arts. Mysliwiec has received awards and residencies from the Puffin Foundation and the Vermont Studio Center. Her work has been reviewed in publications including The Brooklyn Rail, ArtNews, Art Fag City, NYFA Current, and Artnet. She has held teaching positions at Hunter College, the School of Visual Arts, Yale University, and San Francisco State University. 

Media Relations
To request an interview please call AU Media Relations at 202-885-5950 or submit an interview request form.