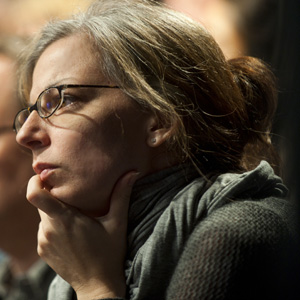 Meghan Raham
Assistant Professor
Department of Performing Arts
Meghan Raham is a Set and Costume Designer with a strong interest in the development of new work. Recent design work includes: The Chosen (Barrington Stage Company), Death of a Salesman (Kansas City Repertory Theatre), The Aliens (Studio Theatre), The Conference of the Birds (Folger Theatre), S/he is Nancy Joe (Zero Point International Festival of Physical Theatre, Prague, Czech Republic), Venice (Kansas City Repertory Theatre and Center Theatre Group, Los Angeles), Fedra (Lookingglass Theatre Company, Chicago), FRANKENSTEIN with the Hypocrites at The Museum of Contemporary Art, Chicago, CLAY (Lincoln Center Theater LCT2, Kansas City Repertory Theatre 2008), The Borderland (Kansas City Repertory Theatre), Wedding Play (About Face and Steppenwolf Theaters), A Big Blue Nail (Victory Gardens Theater). She is a Company Member Emeritus at The Building Stage in Chicago, where she designed costumes for MOBY-DICK and co-production designed NOIR and The Ring Cycle. Her work was exhibited at the 2006 USITT Young Designers' Forum, and she is the recipient of a 2003 John F. Kennedy Center for the Performing Arts Costume Design Fellowship as well as a 2010 Princess Grace Foundation Theatre Honoraria.

Degrees

MFA, Stage Design, Northwestern University
BA, Theatre, University at Buffalo, The State University of New York
Loading ...

OFFICE

CAS - Performing Arts
Wisconsin (4200) - LL15A
FOR THE MEDIA

To request an interview for a
news story, call AU Communications
at 202-885-5950 or submit a request.
---
AU Expert
Area of Expertise: Set and costume design, theatre, performing arts

Additional Information: Meghan Raham is a set and costume designer with a strong interest in the development of new work. She is a company member at the Building Stage in Chicago, where she has designed costumes for performances including Moby Dick. Her work was exhibited at the 2006 USITT Young Designers' Forum, and she is the recipient of a 2003 John F. Kennedy Center for the Performing Arts Costume Design Fellowship as well as a 2010 Princess Grace Foundation Theatre Honorarium.
 
Media Relations
To request an interview please call AU Media Relations at 202-885-5950 or submit an interview request form.