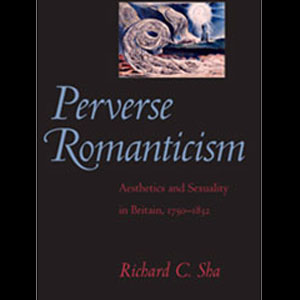 Richard Sha
Chair, Department of Literature
Department of Literature
Additional Positions at AU

Affiliate Professor of Philosophy
Member, Center for Behavioral Neuroscience

Professor Sha teaches courses in Nineteenth-Century Literature, especially British Romanticism and in Asian American Literature. He has drafted a new book entitled,  Science and Imagination in Romanticism, 1750-1850, for which he has received a 2012-13 NEH Fellowship and a 2008 Grant from the American Philosophical Society. He is the author of Perverse Romanticism: Aesthetics and Sexuality in Britain, 1750-1832 (Johns Hopkins UP, 2009) and The Visual and Verbal Sketch in British Romanticism (Penn Press, 1998). He has won the University faculty Award for Excellence in Teaching in General Education (2002) and the award for Teaching Excellence (2004) bestowed by the University Undergraduate Student Confederation. In 2012, he was named AU's "Scholar Teacher of the Year." Together with Joel Faflak, he edited a volume of critical essays on Romanticism and the Emotions that was published by Cambridge UP in 2014.  He has recently been invited to speak at the Centro Interdisciplinare di Studi Romantici in Bologna, the Keats-Shelley House in Rome, the National Library of Medicine, and West Virginia University, at the Extended Cognition Project in Edinburgh, and at a conference on Medicine and Visual Culture at Georgetown.

Degrees

PhD, English Literature, University of TX at Austin
MA, English Literature, U TX at Austin
BA with Honors, U. Pennsylvania

Book Currently Reading:

Andy Clark's Supersizing the Mind


Languages Spoken:

French and Spoken Mandarin
Some Italian
Loading ...

OFFICE

CAS - Literature
Battelle Tompkins - 241
M-Th by appointment
FOR THE MEDIA

To request an interview for a
news story, call AU Communications
at 202-885-5950 or submit a request.
---
AU Expert
Area of Expertise: Painting, poetry, British romanticism, history of sexuality and romantic science

Additional Information: Richard C. Sha is the author of Perverse Romanticism: Aesthetics and Sexuality in Britain, 1750-1832 (Johns Hopkins University Press, 2008). He is also author of The Visual and Verbal Sketch in British Romanticism (1998).

Media Relations
To request an interview please call AU Media Relations at 202-885-5950 or submit an interview request form.