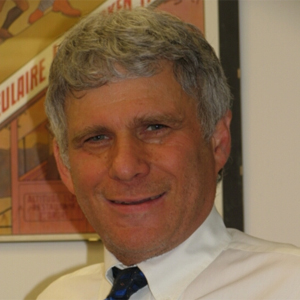 Robert Lerman
Professor
Department of Economics
Professor Lerman conducts research and publishes on employment, income support, and youth development, especially as they affect low-income populations. In the 1970s, he worked on reforming the nation's income maintenance programs and on youth employment policies as staff economist for both the Congressional Joint Economic Committee and the U.S. Department of Labor. He was one of the first scholars to examine the patterns and economic determinants of unwed fatherhood and to propose a youth apprenticeship strategy in the U.S. He is currently an Institute Fellow at Urban Institute and a Research Associate at IZA in Bonn, Germany. Dr. Lerman is current serving as the President of the Society of Government Economists.

Degrees

PhD, MIT
AB, Brandeis University
Loading ...

OFFICE

CAS - Economics
Kreeger - 123
T 5:30-7:00 PM
F 11:30 AM-1:00 PM
By appointment
FOR THE MEDIA

To request an interview for a
news story, call AU Communications
at 202-885-5950 or submit a request.
---
Scholarly, Creative & Professional Activities
Research Interests
   
Education and training programs, especially apprenticeship. Rethinking skill development. Policies to improve outcomes for low-income families, including asset-building, skill development, and enhancing family stability. Economic inequality, Impacts of welfare programs and welfare reforms; Fatherhood and child support; Economic effects of marriage.
   
Impacts of welfare programs and welfare reforms; Fatherhood and child support; Economic effects of marriage.
   
Labor force trends, including the labor market for information technology workers.
TEACHING INTERESTS
   
Labor economics. Poverty and Social policy issues in the developed and less developed world. Developed new course on Poverty, Inequality, and Social Policy. Policy Issues in Financial Economics.
Selected Publications
   
 "The Impact of Changing US Family Structure on Child Poverty and Income Inequality," Economica, v. 63, no. 250 (S), 1996. S119-S139. Reprinted in volume on International Critical Writings in Economics on Income Distribution.
   
"Reassessing trends in U.S. earnings inequality," Monthly Labor Review. December 1997. Co-Winner of Howard Rosen award for the Best Article in the MLR by an author outside the Bureau of Labor Statistics.
   
"How Do Income Sources Affect Income Inequality?" in Income Inequality Measurement: From Theory to Practice, edited by Jacques Silber, Kluwer Academic Publishing, 1999.
   
"US Wage Inequality Trends and Recent Immigration," American Economic Review: Papers and Proceedings. May 1999.
   
(with Elaine Sorensen) "Child Support: Interactions Between Private and Public Transfers." Forthcoming in Means-Tested Transfer Programs in the U.S., edited by Robert Moffitt. National Bureau of Economic Research. University of Chicago Press. 2003.
   
"Is the School-to-Work Movement On the Right Track?" in The School-to-Work Movement:: Origins and Destinations. William J. Stull and Nicholas M. Sanders (Eds.) Westport, CT: Praeger Press. 2003.
   
(with Avner Ahituv). "How Do Marital Status, Work Effort, and Wage Rates Interact?" Demography. August 2007, 623-647.
   
"Career-Focused Education and Training for Youth" in Reshaping the American Workforce in a Changing Economy (edited by Harry J. Holzer and Demetra Smith Nightingale), Urban Institute Press, 2007. 41-90.
   
(with Harry Holzer). America's Forgotten Middle Skill Jobs. The Workforce Alliance. Report for the Skills2Compete project. November 2007. www.workforcealliance.org
   
"Are skills the problem? Reforming the Education and Training System in the United States" in A Future of Good Jobs. Upjohn Institute. 2008. 17-80.
   
(with Signe-Mary McKernan). "The Benefits and Consequences of Holding Assets." In Asset Building and Low-Income Families. edited by Signe-Mary McKernan and Michael Sherraden. 2008. Urban Institute Press. 175-206.
   
"Encouraging Work" in Investing in the Disadvantaged: What We Know, and What We Need to Know, about the Benefits of Social Policies. Edited by David Weimer. Georgetown University Press. Forthcoming 2008.
   
"Apprenticeship in the United States: Patterns of Governance and Recent Developments. In Rediscovering Apprenticeship. Research Findings of the International Network on Innovative Apprenticeship (INAP). Erica Smith and Felix Rauner (Eds.). Springer-Verlag. Forthcoming 2009. More web and other publications of Professor Lerman can be viewed here.
PROFESSIONAL ACTIVITIES
In addition to serving as Professor of Economics, Dr. Lerman is a Senior Fellow at the Urban Institute (www.urban.org) and a Research Fellow at IZA in Berlin (www.iza.org). He has published research and policy analyses on employment, income support, and youth development, especially as they affect low-income populations. In the 1970s, he worked on reforming the nation's income maintenance programs and on youth employment policies as staff economist for both the Congressional Joint Economic Committee and the U.S. Department of Labor. He was one of the first scholars to examine the patterns and economic determinants of unwed fatherhood and to propose a youth apprenticeship strategy in the U.S. Dr. Lerman served on the National Academy of Sciences panel examining the U.S. post-secondary education and training system for the workplace. He has testified before congressional committees on youth apprenticeship, child support policies, and the information technology labor market. His recent research deals with the impact of family structure on employment and earnings, with assets for low-income families, and with apprenticeship in the United States and other countries. As Chair of the AU Department of Economics, he won the University Award for Outstanding Contributions to Academic Development for conceiving and implementing the MA in Financial Economics for Public Policy. In Fall 2007, Dr. Lerman was elected to serve on the Policy Council of the Association for Public Policy and Management. Dr. Lerman earned his A.B. at Brandeis University and his Ph.D. in economics at MIT.
Media Appearances
   
Featured in a CNN television news package and in an CNN.com article as an expert on the value of apprenticeships in August 2011.