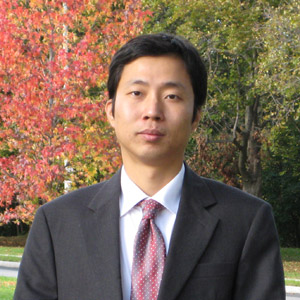 Xuguang Sheng
Assistant Professor
Department of Economics
Xuguang (a.k.a. Simon) Sheng is an Assistant Professor of Economics at American University. His research interests include econometric theory, applied econometrics, empirical macroeconomics, economic and financial forecasting. He has published in Journal of Econometrics, Journal of Applied Econometrics, Journal of Accounting and Economics and Oxford Handbook on Economic Forecasting.

Degrees

PhD, Economics, University at Albany, SUNY
BA, Economics, Renmin University of China
Loading ...

OFFICE

CAS - Economics
Kreeger - 119
M 2-4, W 10-12
FOR THE MEDIA

To request an interview for a
news story, call AU Communications
at 202-885-5950 or submit a request.
Teaching
Fall 2014

ECON-424 Applied Econometrics II

ECON-623 Applied Econometrics I
Spring 2015

ECON-424 Applied Econometrics II

ECON-882 Sem: Empirical Macroeconomics
AU Expert
Area of Expertise: Econometric theory, applied econometrics, analysis of economic survey data, time series modeling, forecasting, monetary economics

Additional Information: Xuguang (Simon) Sheng's current research focuses on panel unit root and cointegration, p-value combination methods, forecast uncertainty measurement, and term structure of survey forecasts. He has published in the Journal of Econometrics, Journal of Applied Econometrics, International Journal of Forecasting, and Oxford Handbook on Economic Forecasting. He has recently won the Heinz Konig Young Scholar Award from the Center for European Economic Research (ZEW).

Media Relations
To request an interview please call AU Media Relations at 202-885-5950 or submit an interview request form.