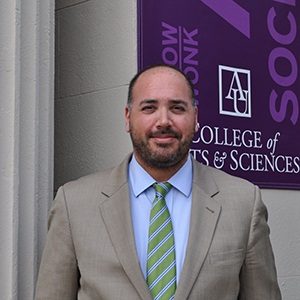 Carlos Tapia
Professorial Lecturer
World Languages and Cultures
Dr. Carlos F. Tapia is an alumnus of Georgetown University, where he completed a Master of Science degree in Spanish (2002) and a Doctor of Philosophy degree in Spanish (2007). His dissertation, "Ink and Celluloid: A Study of El Lazarillo de Tormes and its Filmic Adaptations" (2007), is a comprehensive study of the picaresque novel as a space for multifaceted discourse and analyzes how such hermeneutics are evident in the film adaptations of the first picaresque novel of Spain, the Lazarillo de Tormes. Dr. Tapia also holds a degree of Master of Arts in International Affairs (2009) from the Elliott School of International Affairs - The George Washington University. His area of concentration is Latin America. Dr. Tapia's research interests include Medieval and Renaissance Spain, as well as colonial and contemporary Latin American history and politics, particularly Argentina and Cuba. Dr. Tapia currently teaches Spanish at American University in Washington, DC. Previously, he taught undergraduate courses in Spanish and Latin American studies at the University of Mary Washington in Fredericksburg, Virginia. He has lectured at Saint Peter's College (Jersey City, NJ), Franklin and Marshall College (Lancaster, PA), the U.S. Department of Labor (Arlington, VA), the U.S. Department of State-Foreign Service Institute (Arlington, VA), as well as both the College of International Studies (CIS) and Mosaic International Institute in Madrid, Spain.

Degrees

B.A., History (summa cum laude), Saint Peter's College; M.S. Spanish, Georgetown University; M.A. International Affairs, The George Washington University; Ph.D. Spanish, Georgetown University.

Languages Spoken:

Spanish, Italian and Portuguese.
Loading ...

OFFICE

CAS - World Languages and Cultures
Jack Child Hall - B1
FOR THE MEDIA

To request an interview for a
news story, call AU Communications
at 202-885-5950 or submit a request.
---