Study Tour in Japan

July 30–August 11, 2015:
Hiroshima, Nagasaki, and Beyond (3 credit hours)*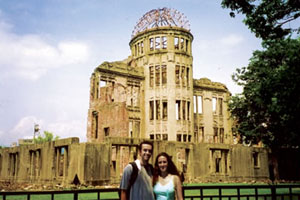 Led by Professor Kuznick, this course explores Japanese wartime aggression, the human physical devastation wrought by the atomic bombings, current Japanese and international efforts to eliminate nuclear weapons, and the building of closer ties between the peoples of the United States and Japan. Students live and study with Japanese and other Asian students, professors, peace activists, and policy experts. Participants meet with atomic bomb survivors and Asian victims of Japanese atrocities and hear first-hand accounts of their experiences. Students also participate in a broad range of Japanese commemorative events and visit peace museums and relevant cultural and historical sites in Kyoto, Hiroshima, and Nagasaki, such as the Kyoto Museum for World Peace, the Hiroshima Peace Memorial Museum, the Nagasaki Atomic Bomb Museum, the Radiation Effects Research Foundation, and peace parks in Hiroshima and Nagasaki. Although the subject matter is serious, participants also have time to socialize and even attend a Hiroshima Carps baseball game.
*The registration deadline for the study tour are July 1, 2015. However, in order to obtain the cheapest possible airfare, students are strongly encouraged to register for the study tour as early as possible. Participants in the study abroad trip are also encouraged, but not required, to take at least one of the on-campus courses prior to the study tour.
The course will run from July 30th to August 11th.

Costs and Course Information:
Please contact the department office (202-885-2402) for information about costs for the institute.
For further information
Or to sign up, contact:
Department of History
American University
4400 Massachusetts Ave., N.W.
Washington, DC 20016
202-885-2401
202-885-6166 (FAX)
E-mail: kuznick@american.edu
View photos fron previous trips here.