Internships
Smithsonian Internship Builds Resume and Professional Network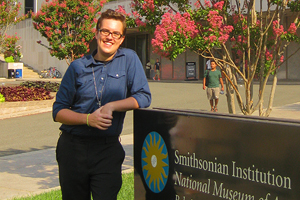 Below is a first person account from Dean's Intern Kevin Borow on his internship at the Smithsonian Institution's National Museum of American History.
Every day of the week, I had to ask myself: am I really passing by the White House on my way to work? Do I really have an ID card with access to the hidden back hallways of a Smithsonian Institution museum?
One thing, however, was certain: I was in the real world now. Even better, I was actually a part of it, not just reading about it in a textbook, or watching it from the outside.
In my time at the National Museum of American History's Lemelson Center for the Study of Invention and Innovation, I was never once asked to make a coffee run or make copies. In fact, coffee was made for me on a daily basis. Heading into my internship, I was sure I would be running endless errands, not having any practical responsibilities. On the contrary, I was put in charge of several projects of my own, from instructional "how-to" videos to promotional videos to be shown to other museums across the US and internationally. I was even pressed with the responsibility of learning how to create motion graphics for the Center's videos.
I kept having to repeat myself: am I still just an intern?
I had heard that Dean's Internships were special, on a different level from the rest. None of that really set in until I had put a few weeks in at the Smithsonian. While I was making plans to film renowned skateboarder Rodney Mullen, "the king of street skating," I talked to a couple of friends interning at various other organizations who were in charge of nothing other than proofreading stories of other writers. I felt extremely privileged to say I was an SOC Dean's Intern, and that I was able to add an institution like the Smithsonian on my resume.
Also, in a weak economy and job market, this internship acted as a huge networking opportunity. I met so many professionals both in and out of my field who could provide both job and further networking opportunities in the future. I'll never forget the amazing experience I had in my first DC summer working at the Smithsonian Institution.
The Dean's Internship program pairs SOC's top students with selected partner organizations for semester-long, for-credit internships. The competitive program provides extraordinary opportunities for undergraduates and graduates to have their work featured with named credits and bylines under national brands. Find current opportunities and application information.