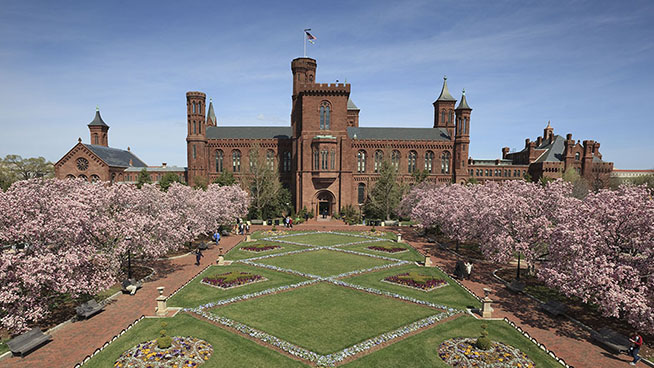 Every spring, public history students in the public history practicum (HIST-730) engage in hands-on learning through projects with various external partners. For students, these projects provide an arena for authentic learning, a chance to build resumes, and an opportunity to work closely with a professional mentor. For our partners, the projects provide valuable, professional assistance in developing their interpretive programming and exhibits. Projects require students to work in small teams of two or three people and spend about 100 to 150 hours apiece researching and developing the final product. Through the process of creating these projects, students learn best practices in interpretive planning, visitor evaluation, writing for public audiences, and working with new media. Students are required to build digital portfolios and present their work to a gathering of partners and faculty at the end of the semester.
Current partners:
National Museum of American History
Previous Partners:
Anacostia Community Museum
Wrote blog posts documenting the history of neighborhood change in the DC Latino(a) community.

Arlington House, The Robert E. Lee Memorial, National Park Service
Researched and designed wayside signs for Arlington Cemetery.
Researched and developed interpretive plan for slave quarters.
All Souls Church, Unitarian
Researched and created Teaching with Historic Places Lesson Plan.
American Red Cross
Researched and developed docent guide, donor tour, and walking tour/podcast of main building.
Chesapeake & Ohio Canal National Historic Park
Researched and selected new material for the self-guided interpretive resources.
Heurich Mansion
Researched and wrote Teaching with Historic Places Lesson Plan.

Historical Society of Washington
Used collections to research and create an education program for D.C. Public Schools' twelfth graders centered around the question of "Who is a Washingtonian?"
Created educational programming to illuminate the history of the streetcar and teach students how to exercise historical thinking.
Lemelson Center for the History of Invention and Innovation, National Museum of American History
Researched and scripted two theater monologues highlighting the lives of women inventors.
Menokin Foundation
Produced a prospectus to guide the foundation's future work, and three wayside signs about the house and grounds.

National Museum of American History
Worked on a number of components for the upcoming permanent exhibition American Enterprise.
Developed a walking tour of Washington, DC, on inventions dealing with sound.
Photographed one hundred objects, conducted research, and designed a website that explored the business history of cosmetics.
Researched and designed a website on the history of trade in the US and products produced in America.
Researched and scripted a public program exploring the history of innovation through artificial hearts.

National Law Enforcement Museum
Surveyed collection.
National Park Service
Developed podcast about Marian Anderson's Lincoln Memorial concert.
Researched and created an online exhibit about Resurrection City.
Researched and designed an interpretive website for the DC War Memorial.

President Lincoln's Cottage, National Trust for Historic Preservation
Developed podcast tour and blog.
Prince William Forest Park, National Park Service
Researched and wrote Teaching with Historic Places Lesson Plan.
Smithsonian Gardens
Developed online lesson plans as resources for teachers connecting history to plants in the collection.
Curated a pop-up exhibit about the international history of honey bees and changes in beekeeping innovation to demonstrate the extent of human reliance on these creatures and the threat posed by their potential extinction.

Tudor Place
Researched and developed a furnishing plan for a future radio room in the house.
White House Historical Association
Researched and scripted guided walking ghost tour of Lafayette Square.
Created web exhibit of the unfurnished servant's quarters at the Decatur House.