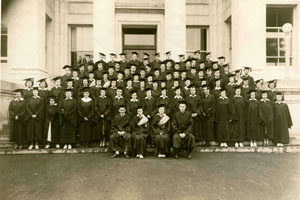 Women's History at American University
In 1894, Mary E. Graydon gave American University, which but a year before had been chartered by an Act of the United States Congress and which had not yet even admitted any students, a generous gift. She wanted to endow a professorship in what AU's early builders called the College of History and to use the fund, as she noted, to "go towards the education of young women alone." By the twenty-first century, that gift, named for her grandfather Patrick Clendenen and given by a woman who wished in all due modesty "that no publicity be given to my name" had matured into the Patrick Clendenen Fund for Women's and Gender History in AU's Department of History. 
The Clendenen Fund supports Departmental initiatives in women's and gender history. In 2006 Pamela S. Nadell, author of Women Who Would Be Rabbis: A History of Women's Ordination, 1889-1985, was named the Department's Inaugural Patrick Clendenen Professor for her scholarship on American Jewish women. As Clendenen Professor, Nadell organized the AU conference "'With Vision Flying': New Perspectives on Women's and Gender History" in March 2008. University of Pennsylvania Professor Kathy Peiss delivered the keynote "Beyond the Gender Turn." AU History faculty Eileen Findlay (author of Imposing Decency: The Politics of Sexuality and Race in Puerto Rico, 1870-1920), Kathy Franz (Tinkering: Consumers Reinvent the Early Automobile), Kate Haulman ("Defining 'American Women's History'," in Major Problems in American Women's History), Allan Lichtman (White Protestant Nation), and April Shelford (Transforming the Republic of Letters: Pierre-Daniel Huet and European Intellectual Life, 1650-1720) participated. The panel "A Sense of Place" proudly featured History Department Ph.D. alumnae Aleisa Fishman (women and Jewish identity in the 1950s suburbs), Christina Gessler (nineteenth-century New England farm women's diaries), and Cindy Gueli (government girls in WWII Washington) discussing their research. The conference closed with a preview of filmmaker Aviva Kempner's then work-in-progress Yoo-Hoo Mrs. Goldberg. 

The Clendenen Fund continues to support departmental projects in women's history and supports graduate students with interests in women's and gender history.  In 2008, Prof. Kate Haulman was appointed Clendenen Assistant Professor.  During her two-year tenure, she completed her forthcoming book Political Modes: Fashion and Power in Eighteenth-Century America.  During fall 2009 Dr. Maina Singh, whose current research focuses on Indian Jewish women, joined the Department as the Clendenen scholar-in-residence.  In fall 2010 Professor Eileen Findlay began her two-year term as Clendenen Associate Professor.
Surely, Mary E. Graydon could never have anticipated the directions of today's women's and gender history, nor could she have imagined that American University scholars would write and teach—to female and male students—about sexuality, ethnicity, technology, and even the politics of clothing. More than a hundred years later, we remain deeply grateful to the woman who asked "that no publicity be given to my name" for her vision for the "College of History," for her determination to see women educated, and for the generosity of American University's Patrick Clendenen Fund for Women's and Gender History.
*Images courtesy of American University Archives